Secrets and Shadows novellas are available ebook, featuring the Bell siblings.
Scarred long ago by the disappearance of his mother, Nichole, Tate Bell aches to spend his days and nights with Ali Holmes, a woman he's loved for years. But while Ali's heart pines to be with Tate, her head has reservations…
Ali knows that Tate has never forgiven his father for the fight he had with Nichole right before she left the house—and was never heard from again. Ali thinks that Tate's unresolved anger is a force to be reckoned with…even though the heat that blazes between them is undeniable. Now both Tate and Ali are left to wonder: Can love really conquer all?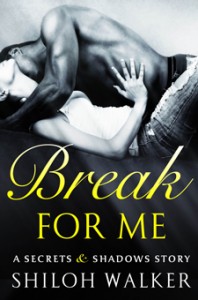 Jensen Bell had twelve happy years before her her mother disappeared and her whole world went to pieces. Since then, she's become a cop—one who takes great pride in her work, and in helping keep others safe. The saving grace in her own life has been Dean West, the only man who can make her burn with desire and help her through her burdens. But when a shocking discovery turns her life upside-down, even being wrapped in Dean's arms might not be enough to keep her out of harm's way…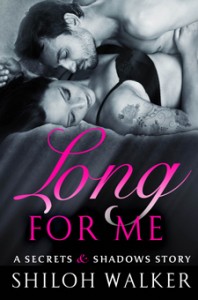 Christina Bell remembers what it was like to be part of a loving family. The youngest of the Bell children, she simply cannot believe that her dad, or anyone else she loves, had a hand in her mother's disappearance. She's looking forward to moving on and spending more time with her sexy best friend, Guy Miller, who she is starting to see in a whole new light.Their attraction sizzling and love deepening, Christina feels confident in her life and ability to handle what comes her way…But when Nichole's body is found—and the mystery of her death slowly reveals itself—Christina is left not knowing who to trust. What if Guy, her one true desire, proves to be her biggest danger?
♦
Secrets & Shadows novels, beginning with DEEPER THAN NEED, will takes a deeper, darker look into the town of Madison.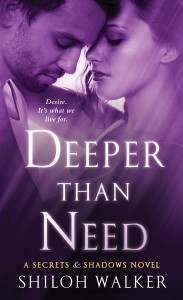 June 2014
TIME HEALS ALL WOUNDS.
Eager to put a dark, troubled past behind her, Trinity Ewing buys an old house that will make the perfect refuge for her and her young son once renovations are complete. The last thing on her mind is finding someone new…but the contractor she's hired is an irresistible distraction—and Trinity can't help but fantasize about all the business they could be doing behind closed doors.
SO DOES ONE MAN'S TOUCH…
Noah Benningfield thought he'd put his demons behind him. But the moment he lays eyes on Trinity, the temptation he feels is too powerful to deny. Soon the attraction between them explodes into something neither of them could have imagined. But their desire will be put to the test when a shocking local murder has them dodging danger at every turn. Can the beautiful and damaged Trinity trust someone like Noah, whose own past is as haunted as her own? The only thing she knows for sure is that she can't live without a man who makes her feel this good—over and over again…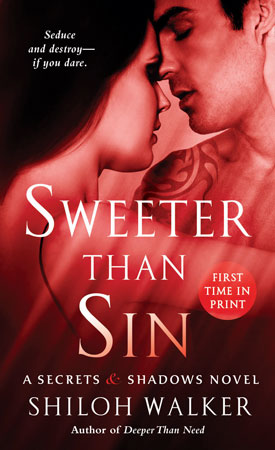 Sept 2014
CAN'T FORGET THE PAIN
It took years for Adam to stop drowning his regrets in alcohol, and running the local bar doesn't make it any easier—especially not when everyone he knows gathers there to discuss the shocking allegations that have shattered his hometown. When another murder rocks sleepy Madison to its core, it becomes chillingly clear that even more vicious wounds are waiting to be exposed.
WON'T RESIST THE PLEASURE
Nothing is sacred anymore, and no one is safe, least of all the mystery woman who shows up in town out of the blue, looking like every fantasy Adam's ever had. She may have her own dangerous secrets, but she can't ignore the urgent heat between them any more than he can. As a killer's quest for vengeance explodes into violence, Adam is tempted to lose himself in the delicious promise of her body—until he realizes he'll risk anything if she'll give him her heart…
September 2014
Darker Than Desire
The conclusions to the Secrets and Shadows series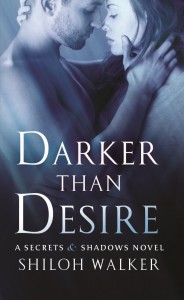 March 2015
LUST FOR LIFE
No matter how many times he's left her in the  past, Sybil Chalmers can't ignore her feelings for the one man who stole her heart years ago. For countless nights, she has waited for him—for his kiss, his touch—and has longed for him to emerge from the shadows of his past. Only when she is in his arms does Sybil really feel alive…and finally, after all these years, that time is now.
A DEADLY DESIRE
He's a man raised in a world of strict rules and unbreakable traditions and he's always yearned to break free. But when a family tragedy lures him back home, he finds his one true passion has been there all along. With Sybil, he can explore his greatest potential—and allow her to discover a whole new level of ecstacy. But will a long-buried secret threaten to tear them apart? The only thing he knows for sure is that he will do anything to keep Sybil in his life…and keep her coming back for more…