Coming in March 2015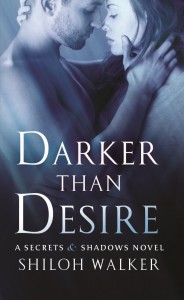 LUST FOR LIFE
No matter how many times he's left her in the  past, Sybil Chalmers can't ignore her feelings for the one man who stole her heart years ago. For countless nights, she has waited for him—for his kiss, his touch—and has longed for him to emerge from the shadows of his past. Only when she is in his arms does Sybil really feel alive…and finally, after all these years, that time is now.

A DEADLY DESIRE
He's a man raised in a world of strict rules and unbreakable traditions and he's always yearned to break free. But when a family tragedy lures him back home, he finds his one true passion has been there all along. With Sybil, he can explore his greatest potential—and allow her to discover a whole new level of ecstacy. But will a long-buried secret threaten to tear them apart? The only thing he knows for sure is that he will do anything to keep Sybil in his life…and keep her coming back for more…
Excerpt
She'd would have liked to follow him, but it was weird enough coming out here just to offer him comfort he clearly hadn't wanted.
He hadn't wanted it, no.  But the pain in him was wild.  The need enough to take her breath away.
She'd probably have bruises on her hips in the morning and although her body felt bruised in that wonderful, blissful way that could only happen have good, hard sex, she knew he'd just done the same thing he always did.
Used her body to avoid looking at his own pain too deeply.
Used her so he wouldn't have to think about the fact that he needed her.
He did need her.  She'd seen it in his eyes, on his face, in the way he clung to her as their breathing calmed and their hearts slowed.  He needed her, and because he did, he would push her away.
He'd been doing it for weeks.
To be honest, she'd been half-expecting this anyway.
Hell. She was actually shocked he had ever let her get close to him at all. One look in his dark, tortured eyes and she'd realized that he had demons living inside him.  All the truths were coming to light now and she understood more about those demons than she really ever wanted to know.
She wanted to put herself at his side so he never had to go through anything alone again.
But he only wanted to be alone, except on the rare occasions he didn't.  Then he turned to her.  When he left in the quiet hours before dawn, she was exhausted, aching, and the need for him was like a drug in her system.  More, more, more…that was all she wanted.
But he gave her less and less.
Sybil was stupid enough, desperate enough, needy enough, to accept whatever he was willing to give her, to give him as much as he was willing to take.
And all the while, she hid some truths from him that she'd likely never reveal to him.
BN | Amazon | Indiebound | Book Depository | iBooks