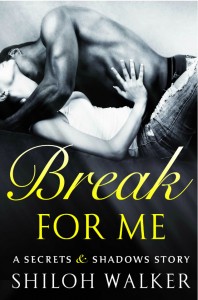 Jensen Bell had twelve happy years before her her mother disappeared and her whole world went to pieces. Since then, she's become a cop—one who takes great pride in her work, and in helping keep others safe. The saving grace in her own life has been Dean West, the only man who can make her burn with desire and help her through her burdens. But when a shocking discovery turns her life upside-down, even being wrapped in Dean's arms might not be enough to keep her out of harm's way…
A Secrets and Shadows Novella…releasing in ebook in April 2014
He'd had two drinks.
He thought.
That wasn't going to make him hallucinate.
Right?
And even if it did . . .
Dean groaned as her tongue danced across his lips and then pushed inside, without even waiting to see how he'd react.
Fuck, there was no question of reaction.
He'd only been waiting half a lifetime, it seemed.
Maybe his entire life.
Sliding one hand down to her hip, he yanked her against him.  The feel of her, all slight angles and delicate curves, was every bit as perfect as he'd imagined.
She jumped up and he caught her, the bottle of whiskey, the glass falling to the porch.
Feeling like the top of his head was about to come straight off, he turned and pressed her against the wall. She arched against him and through the barrier of their clothes, he felt the warmth of her—it was a seductive, sweet heat.
This was devastation, and he thought he was going to die if he didn't get his hands on her.
Tearing his mouth from hers, he lifted his head and looked down at the upturned oval of her face.  Her breath came in harsh, labored pants.  His breathing was just as ragged and against his chest, he could feel the slight swell of her breasts, rising, falling.  Sliding a hand over the curve of her hip, slipping his fingers under the hem of her shirt, he said softly, "When a man's been dying for a taste of something for as long as I have, it's hard to think straight, especially in a moment like this.  I think maybe we should–"
She pressed a finger to his lips.
"I think we should stop thinking.  I'm tired of it."
Amazon | BN | Kobo | iBooks | Google Play