Kinda sorta, they go together.  Stars. Moons.
Fine, don't work with me… 😉
Anyway, just wanted to share this awesome Star Wars tatt, seen at the Moonlight and Magnolias Conference.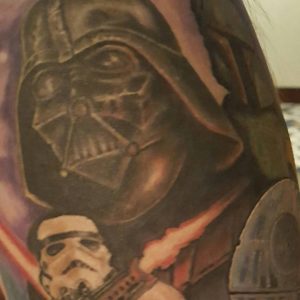 A woman at the conference here had it and she said I could take a pic.  I love it.
So far, I've only been to one workshop, other than the one I had to present and it was great…all on indie publishing by Roxanne St. Clair and Kirsten Painter.  Some things to think about.
Right now I'm sitting in the restaurant with a rum and diet and getting ready to work…