I'm reissuing Hunters Belonging in October!  ALSO!!! It has two, yes TWO, bonus books… Back From Hell and Nebulous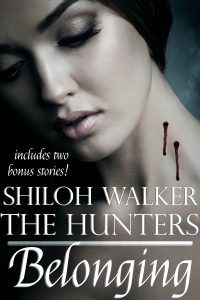 Being a vampire can suck. Corinne Lewis will be the first to testify to that. She went through the "change" but it certainly didn't change her all that much.
Still shy, quiet and a wallflower, she doesn't fit in with the rest of the vampires or other paranormal creatures at Excelsior, the school that trains the elite Hunters. She lives there now, working for the people who took her in after the vampire attack that changed her and left her too afraid to cope with undead life—and everything else.
Of course…there are some changes, and they are awkward. She was never really liked sex, always thought she might be frigid, but now she needs it. A lot. One night, unable to go to the men at Excelsior, she goes in search of a one-night stand and finds herself facing a blast from the past.
But once he discovers who she is, can he forgive her?
And can she let him go?
Excerpt
"Look at me," he rasped. "I can't see you. I need to see you. You want this to happen?"
"It's dark…you can't see me." Then she slipped her hands under the waistbands of his jeans and boxers and pushed them down. "I want it to happen. Make it happen."
He squinted in the darkness, desperate to see her face. See her mouth. Hell, even taste her mouth because every time he tried to kiss her, she turned her face away. Soft, warm fingers stroked his cock and then lower, cupping his balls in her hand. She squeezed, light and quick. "Make it happen."
With a snarl, Levi caught her hips in his hands, wedging her thighs apart. She cried out as he pressed the rounded cock head against her slick, wet heat and then whimpered as he pushed inside. Deep, deep—her pussy tight, hot and slick around his dick, clenching down, almost resisting his intrusion even as she wrapped her legs around his hips and arched, trying to take more of him.
"Fuck…." He wheezed out, his eyes almost crossing from the pleasure as she convulsed around him. She whimpered, doing a mad little shimmy with her hips that was doing a serious number on his already faulty self-control. "Baby, slow down, please—fuck, you're killing me."
"I'm dying." She pressed her mouth to his neck and kissed him, her tongue rough and warm against his flesh, leaving a burning trail. "I hurt. I hurt so bad. Make it stop."
"Hurt—fuck," he swore, started to pull out. "I'm hurting you."
She tightened her legs, squeezing with a strength that seemed at complete odds with her slender, delicate muscles. "Don't stop."
It was a soft, desperate plea and the sound of it almost broke his heart.
"Please don't stop. I'm so empty inside. I hurt so much." Her breath hiccupped in her throat.
Threading a hand through her hair, he tugged, once more trying to see her face. Overhead, the clouds parted, revealing just a thin slice of the moon before it disappeared once more. That faint flash of silvery light splashed across part of her face, highlighting just her eyes, but he couldn't even look into her eyes because they were closed. The hot, slick walls of her pussy convulsed around his cock and she rocked against him, trying to take him deep, ride him hard. Hunger burned, threatening to blister both of them.
He pressed his lips to her temple. "I won't stop. Hold on to me." He guided her arms around his shoulders and then slid one hand down the smooth flesh of one thigh, anchoring her knee against his flank as he rotated his hips. She moaned. Levi did it again and again. Shifted his weight so that he rode high on her body as he shafted her, the head of his cock rubbing over that one sensitized area high in her pussy.
Pressing his mouth to her neck, he nuzzled her, licked her. "You taste sweet," he rasped, raking her skin with his teeth.
She cried out and cupped her hand over the back of his head, holding him tightly against her. Against his belly, he could feel the ripple of muscles contracting in her abdomen. Her body all but shuddered with the force of her need—a swirling violent maelstrom that threatened to suck Levi under as well.
"Do it again," she whispered into his ear then she arched her neck, baring it for him.