More of my favorite things…
O star of wonder, star of night,
Star with royal beauty bright,
Westward leading, still proceeding,
Guide us to thy perfect Light.
Christmas Carols – We Three Kings Lyrics | MetroLyrics
I figure I can tie that three kings things into the Darkyn lords trilogy. 😉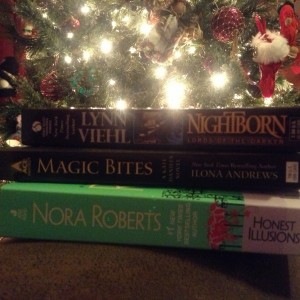 So today my favorite things are books from my three die-hard faves.
Magic Bites by Ilona Andrews, Nightborn by Lynn Viehl, and Honest Illusions by Nora Roberts.  I'm a groupie for all three authors… Nora is the one who really hooked me on romance, and that book was the first I read from her.  I can't pick a favorite by Viehl-honestly, because if I did it would be an entire series and that's the Stardoc series, so I just decided to go with the Darkyn lords. And if I'm giving away Ilona Andrews, I should start with the first.
The books go into the box of goodies, to be given away at the end of the contest.
Tomorrow, I'll add more prizes to the goodie bag…um, box.
Rules on entering below!  You must enter via the widget.  It collects all entries.  Please make sure you read the disclaimer.