I'm doing a Christmas contest. Goodies and stuff. I also ramble about Christmas and stuff I like. 🙂
Girls in white dresses with blue satin sashes
Snowflakes that stay on my nose and eyelashes
Silver white winters that melt into springs
These are a few of my favorite things
So I'm a nut about Christmas.  I love the holiday.  I love Christmas carols and cookies and I don't even really mind shopping.  I like giving presents and I love getting them.  I love Christmas musics and carols and I love the sermons around Christmas season.
One of my favorite Christmas specials is The Charlie Brown Christmas special…and Linus.  Cuz of this part…(grabbed from IMDB).
"And there were in the same country shepherds abiding in the field, keeping watch over their flock by night. And lo, the angel of the Lord came upon them, and the glory of the Lord shone round about them: and they were sore afraid. And the angel said unto them, 'Fear not: for behold, I bring unto you good tidings of great joy, which shall be to all people. For unto you is born this day in the City of David a Savior, which is Christ the Lord. And this shall be a sign unto you; Ye shall find the babe wrapped in swaddling clothes, lying in a manger.' And suddenly there was with the angel a multitude of the heavenly host, praising God, and saying, 'Glory to God in the highest, and on earth peace, good will toward men.'"
Which is from the Book of Luke.
I also love A Year Without a Santa Claus.  But you all probably wanna hear about the contest.
For the next few days, I'm going to run a contest where I give away some of –or tokens of–my favorite things.
Things like this!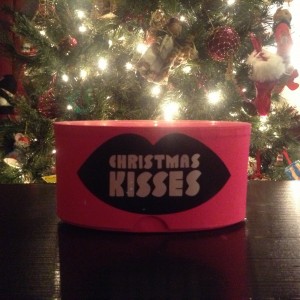 It's a gift set from LUSH, my favorite cosmetics store… they use all natural ingredients and the stuff smells good enough to eat.
Tomorrow, I'll add more prizes to the goodie bag…um, box.
Rules on entering below!  You must enter via the widget.  It collects all entries.  Please make sure you read the disclaimer.