A doubler giveaway! I found this on my bookshelf…it's signed by Nalini so I think I must have bought it for a giveaway and forgot. Oops!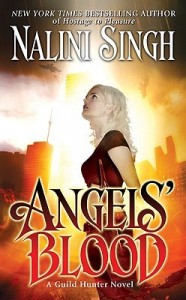 Want it? Leave a comment below. It's the first in the series, so if you haven't read them, you're fine to start here. And you should. Start here, I mean. Read these books. They are awesome. Read the disclaimer… winner name will be posted to the blog, sometime next week and you have to check back to see if you've won.  I do not email the winner. Entering means you've read and agree to the disclaimer.  Do not post this to sweepstakes sites, either.

Thank you.
Other stuff!  Look it… Kindle posted me to their blog!
A bunch of my Berkley books look to be marked down over at Amazon. Wrecked is $7.49, The Protected is up for preorder at $8.89, The Reunited is $8.89, etc.  It's not a lot…some of them are only 50 cents cheaper, others are a dollar or so cheaper.  But hey, every bit helps, right? The link takes you to my Amazon page. Doesn't look like the other sites have the same price at this time.
And, last but not least, Broken Blade is up for pre-order.  There's a snippet over at my J.C Daniels site. Other links will be posted as they go live.
Don't forget to comment if you want the Nalini book!