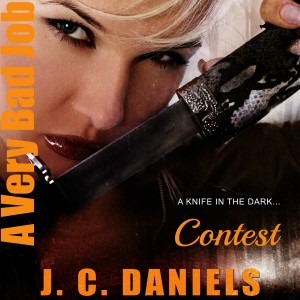 have you entered…
 click on the button to read about the contest
"Not good," Xavier muttered and his head cut to me, his gaze raking over me. "You bled, sugar. I can't completely mask that smell."
All the oxygen dwindled out of my lungs as Damon climbed out of the car, his eyes narrowed, head tipped back.
I knew what he was doing. He'd caught a scent. Mine…?
"Can he smell it?"
Xavier's jaw clenched. "Not entirely. It's more like…something he forgot. Smell and memory are pretty tightly linked, but the cloaking is screwing with it so he's not sure—"
Both of us froze as Damon knelt in the dirt, studying the track the bike had taken. He followed the path with his eyes and although he couldn't see us, he was looking right at the bike, his gaze puzzled as he tried to think it through. He couldn't see the bike, but if he walked over there…
Oh, shit—
Xavier's breathing hitched. He lifted a hand and I did the same. Leveling my blade at him, I said quietly, "Do a damn thing to hurt him and I'll carve your dick off, you hear me?"
"Give me some credit."  He flicked his wrist and Damon stilled, looking back toward the interstate.
I didn't hear anything, but Damon apparently did.
His phone rang in the next second. He answered it, straightening from his crouch, still staring at the earth.
Only thirty feet separated us.
My ears weren't as keen as his, but the cloaking spell didn't affect me and I could hear the phone call just fine.
It was Chang on the other end. "Is it done?"
"It's done. Keep your ears open. And if you hear anything about where in the hell I can find…" Damon was staring off into the distance now, but the look on his face—it was enough to freeze the blood in my veins.
iBookstore | Amazon | BN | Kobo