Have you entered to win a feather From an Angel's Wing?  It's the contest to celebrate the release of Blind Destiny…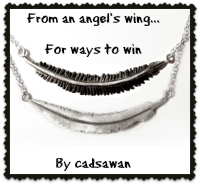 taking a different spin today… how about a little peek at Will…and a new sort of angel.
"This one is new," he murmured. A dark, demented smile curled his lips. "New…but she's not human anymore." Something flashed in his eyes. "She can survive in the void."
"Don't even think about it," Will warned.
Crow's smiled widened. "And how will you stop me? You are not as old as I. Not as strong."
He took a step toward them.
Will ripped opened the fabric that separated their world and shoved Crow through without blinking an eye. "I said, don't."
He snapped it shut before Crow managed to snap his wings closed.
A spray of black feathers, blood and bone drifted down.
Mandy gulped and stumbled away. "What…what was that?"
Will blew out a sigh and knelt down, lifted one of the feathers.
"Somebody who hates me."
~*~
Enter the contest…
Read more about Blind Destiny… or you can just preorder it…
Amazon | BN | Samhain | iBookstore
(This won't be out in print for a while…it's not long enough so it has to be paired up.)