CONTEST IS OVER.  Winners to be posted 6/5. No prizes will be mailed before then… (sorry, I'm heading out of town soon…)
I'm going to give away 100 PDFs of BOUND TEMPTATIONS.
Yep.
I need to spread the word about the print book, so I'm giving away 100 PDFs. Reviews aren't necessary, but they would be appreciated. The only catch is that you have to be over 18, leave your email in the rafflecopter thingy (I've never used it so this is an experiment, but I think they are kept private), and of course…well, enter. Details in the widget. DO NOT spread to sweepstakes site. It's on rafflecopter, but other that, that's it. As always, I reserve the right to end the contest if this happens.
The prize is the PDF, and no print copy will be substituted if you don't read ebooks. Sorry…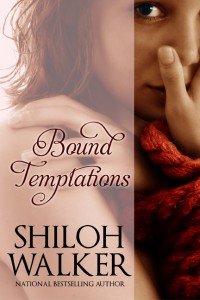 widget removed—contest over—Winners to be posted VIA the widget on Tuesday 6/5/2011.  
mini excerpt…
"Okay." He smirked a little and leaned forward, setting the bottle on the table. "Although I don't know what you could ask that would surprise me that much, Tania."
"Five years ago."
Okay—maybe I was wrong. She can surprise me.
Drake grabbed the bottle. "I think I need the beer," he muttered.
She smiled. "Five years ago," she said again. "You know what I like."
He shifted his gaze to her, all too aware of just how little distance separated them, all too aware of that short, flippy skirt, of the sweet scent of her skin…and just how acutely he remembered things from five years ago.
You…on your knees.
You…restrained and begging.
You…looking at me with that challenge in your eyes, all but daring me to watch while Kyle fucked you, while you pretended to fight—
"Do you remember?" she asked, her voice low and quiet.
"Yes." How could he forget that?
Click to read more…
Please note these are two hot romances, and BEG ME is very erotic and deals with some heavy subject matter, namely rape fantasies, etc, so that may not be your cuppa.