Talking about shame, shame, shame…
"We already talked this through. You needed it. I gave it to you. End of."
Tania smiled, shaking her head. She flipped the bacon out of the pan and reached for the eggs. A nice, cholesterol-heavy, fattening breakfast. "Yes. I did need it—I need to control something, something that you didn't necessarily even want—and maybe I even needed it that way. I know that wasn't fair. But I did need it. Maybe it will help if I tell you that it did help."
Behind her, he was quiet. He wouldn't ask, she suspected. So she continued. "It helped me. I woke up this morning feeling like I'd broken through some last link of chain or something. I'm sorry it took hurting you, though."
"You didn't—"
"Stop it." She cracked the eggs into the skillet, watched as they sizzled. "Don't tell me it didn't hurt you, that you're not angry. I know you, Drake, I know how much you keep trapped inside. And I am sorry I hurt you."
More silence.
She finished the eggs, slid them onto a plate for each of them, added the bacon.
Then she turned to him. He sat there, still wearing that unreadable expression, his blue eyes blank. So much distance between them, so much. She forced a smile. "And you want me to believe you're not angry," she murmured, setting the plates down and settling onto a stool.
Drake closed his eyes. His hand came down, covered hers. "I'm not. Tawny, I'm not angry. I just…"
Something about his expression warned her. Even before he said it. Even before he didn't say it. Because he didn't say what she knew he wanted to—he didn't say the words she could see all but trapped inside him. He gave her a tight, tired smile. "I'm not angry," he said again. "I'm always here for when you need me. For…hell. Whatever you need. I'll give it to you."
Then he pushed back and stood up.
Tears burned her throat. She listened to his quiet footfalls. She should just let him go, she thought—she'd taken too much, she realized. She needed to let him go, maybe do what Gail had done and just leave. Move on. Let him do the same.
But she couldn't, because she needed him. She loved him.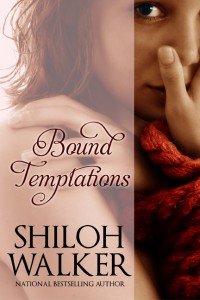 Other authors out on the snippet tour…
Megan Hart:Read in bed!
Rhian Cahill
Eliza Gayle
Jody Wallace
Mandy M Roth
Lissa Matthews
Mari Carr
McKenna Jeffries
Myla Jackson
Taige Crenshaw
Delilah Devlin
HelenKay Dimon
TJ Michaels
Lauren Dane