Today's Grimm Guest…Thea Harrison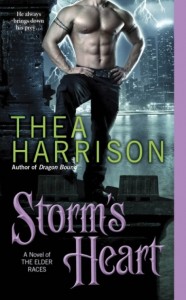 Blurb:
He's a wyr warrior, a god of storms. She's the heir to the Dark Fae throne. But desire will bring both to their knees in this all-new Novel of the Elder Races.
During the rule of her murderous Dark Fae uncle, Thistle "Tricks" Periwinkle found sanctuary among the wyr in New York. Her ethereal beauty and sparkling personality won the hearts of the public, but after her uncle's death, there are those who don't want to see her ascend to the throne…
Able to wield thunder and lightning, wyr sentinel Tiago Black Eagle has ruled the skies for centuries. His massive build and thunderous power make him one of the wyr's best weapons. And he's sent to protect Tricks when she's almost assassinated in Chicago.
Soon, both Tiago and Tricks will fall prey to the stormy hunger that engulfs them—a passion that will shake the very foundation of all the worlds…
EXCERPT: Chapter One STORM'S HEART
*   *   *
He had gotten used to her infectious grin and that sexy wriggle she did with her cute little ass when she was flirting either with the camera or with someone in person. Anger burned that someone would dare try to harm her. She was so small and delicate, maybe all of five-foot-nothing and a hundred pounds, soaking wet. And now she was missing.
His hands fisted.
Dragos grunted and pushed a button. "There."
Tiago looked back at the flat-screen along with everybody else.
The female reporter came back, speaking more news babble. Blah-fucking-blah. More sexy footage of Niniane, winking at the camera and blowing a kiss. Damn, that mouth of hers was made for Playboy TV. He clamped down on the thought and concentrated on being relevant.
She had arrived in Chicago with an escort of Dark Fae that had been made up of some second cousin or other and assorted guards. She had met with a small delegation that was headed by one of the Dark Fae's most powerful governmental figures, Chancellor Aubrey Riordan. She and the delegation stayed in the penthouse suite at the Regent, preparatory to crossing over to the Dark Fae Other land for her coronation. She had, by all accounts, left the hotel last night for dinner with her cousin and a small escort.
The usual swarm of paparazzi had bayed in pursuit. The Dark Fae lost the paparazzi after a high-speed chase. What happened for the next couple of hours was unknown.
Tiago gritted his teeth as he glared at the screen. Get to the fucking point already.
And there it was, the fucking point, sprayed all over a fifty-six-inch plasma flat-screen, and apparently all over the Internet as well. One million, seven hundred and fifty thousand hits and counting, as of 1:30 am.
The grainy, badly shot footage showed a dirty alley that could have been anywhere, in any city in the world. The scene jerked. Whoever had recorded the footage couldn't have done a worse job if they'd tried.
Still, Niniane was unmistakable in a red halter dress that accentuated her compact hourglass figure. Two Dark Fae were already on the ground. She was locked in some sort of struggle with the third.
The Dark Fae struck her hard in the ribs. The breath left Tiago in a growl as if he had been the one who had taken the blow. The asshole with the cell phone kept filming this shit and did nothing to help her? The scene jostled. Shit!
Then it came clear again. The last Dark Fae was down.
Niniane stood over her attacker, gasping and disheveled, one hand pressed to her side. She started to kick the body. "I hate my family!" she shouted. "I hate my family! I hate my family!"
*   *   *
Thea is giving away three signed books (this is limited to US & Canada only).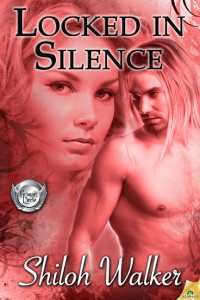 To enter, just leave a comment below.  
Remember, all comments left during the daily Grimm Giveaway are entered for the big giveaway…info here.  Make sure you've read my disclaimer-all winners will be posted to my blog and that's your notification.  If you don't check back…you don't know if you've won.  More info on the Grimm giveaway link.
Dying is hard enough… coming back to life is brutal.
read more…