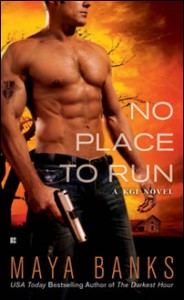 Awesome book. I loved it.
Maya gave me a copy at a signing a little over a week ago and I gobbled it down.  It's due out next Tuesday.  You should read it.  🙂
The blurb…
Sam Kelly was her first love.

The last person Sam Kelly expected to pull wounded from the lake was Sophie Lundgren. Once they shared a brief, intense affair while Sam was undercover and then she vanished. She's spent the last months on the run, knowing that any mistake would cost her life and that of her unborn child—Sam's child. Now she's resurfaced with a warning for Sam: this time, he's the one in danger.

Now he's her last chance.

Sam has too many questions to let her slip away again—like why she disappeared in the first place. This time he vows not to be seduced. But one look in her eyes, and the passion burns again, and Sam knows he'll do anything to keep her and his child safe. However, Sophie's dark past is more dangerous than he imagines, and the only way for either to survive it is to outrun it.
I'm on a Maya Banks glom-fest…Just finished her book Sweet Seduction and she was so awesome-sent me KGI #3, Hidden Away that I'll be reading soon…I'm really loving the Kelly books.
Yep, it's #2 in the series, can work just fine as a standalone, IMO.