Celebrate good times, come on! (Let's celebrate)…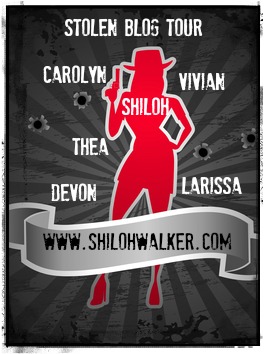 Before we start today's ramble…I'm hiding out today.  Over at Smexy Books.  Supposedly they love me over there, so maybe they'll keep my secret and not tell any of the…um, people, who might…ah, be looking for me.  Not that I did anything. Really. o.O
So STOLEN is out. A book that almost killed me dead writing it. Some are easier than others, some are harder. This one was harder. Usually on release day, I try to take the family out so I don't sit around, staring at Amazon numbers and hoping, praying, waiting for that bright and shining day I'll finally hit a list…and I've resolved myself to the inevitable.  It ain't happening.  Yeah, I know it doesn't mean much readers, but it means a lot to writers and I keep hoping…and I keep seeing it not happening, so I'm aiming for distractions now.
Still, it's another book out and I haz shiny new contracts with a new publisher and I absolutely adore my editor.  I've wanted to work with her for a long time and no, I'm not just saying that to butter her up.  I don't think she'd buy it anyway.
Dinner out is not just a distraction.  It's a way for us to be together and it reminds me that despite that illusive list thing, I'm doing something I always wanted to do, and God willing, I hope to keep doing it.
So that's the family celebration thing.  This time, we went to Molly Malone's in Louisville, and we went on Monday after I found out…hey! KIDS EAT FREE!  AWESOME!!!
And the guy took us out for ice cream after. 😉
My personal celebration…I usually make a Kiva loan.  I love Kiva.  I actually have two different accounts, a personal one and then my 'Shiloh' one since I talk about them so much.  Kiva is a micro-loan thing, where you can 'loan' $25, and it can change a person's life.  Right now, you can even make your first loan on somebody else's dime. 🙂
This time, though, I decided to do a kiva loan and donate to the Red Cross, considering what's going on along the East Coast with Sandy.  Man, she's a mean one.
I dunno if that's normal celebration stuff, but it works for me.  I keep telling myself if I can find a rocking pair of red cowboy boots, one day I'll buy them as a 'me' present, but the only ones I ever find that I like cost waaaayyyy too much.  Maybe that will be that illusive 'if I ever hit a list' present.
Oh…I do have a bottle of ice wine. I suppose I could crack that open.
What do you like to do to celebrate something special?
**Lyrics from Celebrate, by Kool & The Gang