A mini snippet from STOLEN…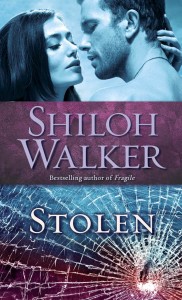 Tears burned her eyes but she blinked them away. Filing the email, she put the phone down and covered her face with her hands.
Can you tell us what happened…?
No…
She sat there and shuddered. Do you remember…
No. She didn't. But a part of her was trying to, and she really dreaded the day those memories finally crept into the open.
Have you checked out the blog tour?  Lots of prizes!
Some Qs:
Will this be in audio?
I have no idea.  I just now had my first audio deal and I suspect future audio deals depend on a book's popularity.  I'm very far from the point that audio is a given.  I won't know until/if an offer is made.
Will this be available digitally in the UK?
Yes! This time, I knew, in advance, there were going to be odd things with the UK digital distribution so I prepared.  You can preorder it now via
I think it's available for preorder on the iBookstore, but I can't check that.
Is this connected to another series?
No.  I know it kind of looks like it might be, but it's not at all related to the Ash books.
So those are the Qs I've gotten asked a lot.
Just a word of warning…this book is pretty dark.  The heroine went through hell and she's probably even more screwed up than Devon from FRAGILE.  If you want a nice, safe read…this isn't it.