Summary
Crashed, a Barnes Brothers Novel, by Shiloh Walker coming soon
Crashed, A Barnes Brothers Novel, by Shiloh Walker
This will be a Patreon-supported book and if you want to get in and get an early read, you've only got a few days. I know it's kinda last minute, but the story started coming together fast.
Support starts just $1, too!
Patrons get perks, sneak peeks and to read the entire book early via ebook. Other perks include your chance to be Tuckerized (have your name featured in the book as a walk-on character), a mention in the dedication, and more. You can become a supporter here. But sign up before the end of the month!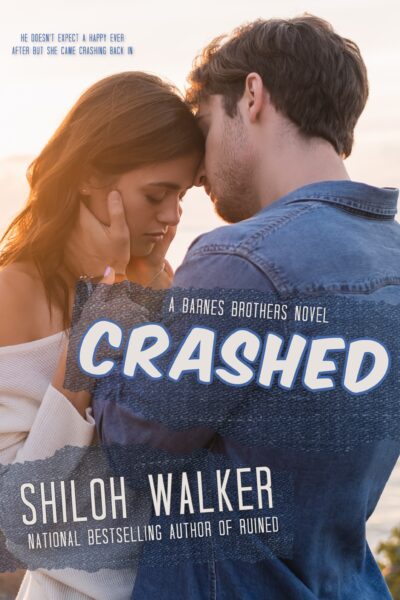 Crashed
Travis Barnes isn't looking for a happy ever after
Unlike his brothers, he doesn't think he deserves one. As a teenager, he broke the heart of the girl he'd fallen in love with and he's never forgiven himself. He sure as hell doesn't expect her forgiveness.
Since then, he fell into a dangerous double life, one nobody, not even his twin, could begin to guess at. He accepts the risks, hoping to atone for his sins and save others like he couldn't save his former love. When an assignment lands him in the hospital with a near fatal injury, his handler gives him a choice, take a break…or he's out.
The last thing Travis expects is for his handler to put him up in a house next to her, the woman he's never been able to forget…
Bella Franklin was once known as Isabel Steele, daughter of a high-powered, corrupt U.S. District Attorney. Meeting Travis Barnes had been the one good thing in her life—then he'd abandoned her.
Years later, living in witness protection, she takes care of foster kids and pretends she's forgotten him…until the day she finds herself face to face with an unforgettable gaze the color of the ocean. Travis Barnes, the boy who nearly broke her, is now a man who carries shadows in his eyes and holds far too many secrets.
The fire still burns between them. But can she forgive his betrayal, forgive his abandonment? And can she trust the secretive man he's become?
Trigger warning: this story involves miscarriage, infertility and off-page references to abuse suffered by the heroine at the hands of her father, et al. It also involves found family and two battered souls who find their way back to each other.
The rest of the preorder links to come soon!
Amazon | Apple Books | BN | Kobo
Read more about the Barnes Brothers here and check them out if you haven't bought them
Amazon | Apple Books | Barnes & Noble | Google Play | Indie | Kobo