TL;DR – Life is chaos. Been helping with my mother-in-law because my father-in-law passed. Book released, if you like fantasy romance, keep going!
It's been quiet here on the blog for the past few months because it's been rather chaotic. Back in the fall, my dad had another cardiac scare and stayed with us for a short time, then in December, my father in law took ill with COVID.
On12/31, he went into the hospital and although the first few days were rough, we thought he was going to be pull thru. He did a remarkable turn around and was starting to get stronger. But mid-January, we lost him.
It hit us pretty hard, my guy, the kids, my brother in law, but especially my mother in law. They were together more than fifty years and for the past few years, especially, she'd relied on him more and more as her health grew more frail. She's in the earlier stages of dementia and things there started progressing more quickly, likely from stress and grief, but everything being what it is, we had to make some choices about power of attorney, etc, so I've been accompaning her to doctor visits and working on the things from that front.
So….well, as I said, chaotic.
BUT!!! Hey, my writing brain hasn't stopped churning. I'm working on Kit, slowly, sad to say, but the work is being done. I also finished a very heavy rewrite on an old EC story, a fantasy romance, and reissued it. Previously, the book was titled Touch of Gypsy Fire, but since I first wrote it, I've become aware of the negative connotations attached to the term gypsy and elected to remove the word from the title and the book. I also added more than 20k to the book, smoothing out the world-building and improving the story line.
The book's new title is Of Mischief and Magic. It's fantasy romance and available now!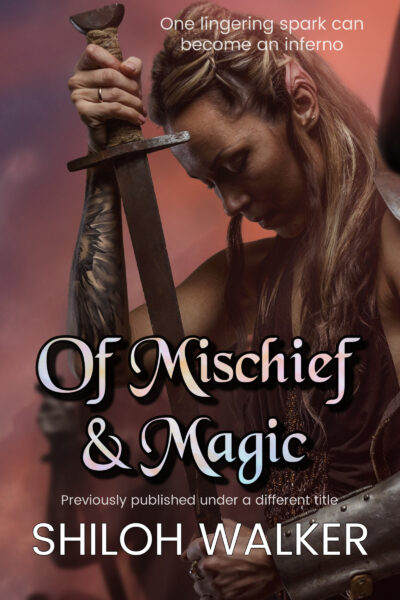 Tyriel, the half-breed daughter of an elvish prince and a Wildling lady, had heard it said that a union between an angel and an incubus would have been more likely than the love match between her parents.
Wildly independent, she had no use for days at court in the elvish kingdoms. Leaving that life behind, she made her living as a hired sword. As a mercenary, she fought with all the passion of the Wildling clans and the magic of her father's people, the reclusive fae.
It was a carefree life…mostly. If the loneliness seemed to haunt her at times, she just hid it with a smile.
That carefree existence changes when she meets Aryn of Olstead, a powerful, sinfully seductive swordsman. Without even trying, he catches her eye, then her heart and soul.
Aryn of Olstead was no stranger to the lonely life on the road. While he might be drawn to the half-fae merc with wicked eyes and a seductive laugh, he knows better than to let himself get too close.
Part Wildling, part elf, Tyriel is everything magical in the world. Aryn is only a hired sword.
Yet, the two bond and spend years working at each other's side, until destructive secrets and hidden needs drove a wedge between them.
As a trust built through sweat, blood and battle slowly erodes, their partnership falls apart. Tyriel disappears without a trace.
When Aryn learns she's in danger, nothing else matters but finding her. Rescuing her comes with a high price…one higher than he ever imagined.
 Amazon | Barnes & Noble | iBooks | Kobo | Smashwords
It's available in ebook now and the print version is just about ready, too.
In other news, I'm halfway vaccinated against COVID and can't wait to be able to somewhat get back out into doing things. Hope all of you are staying safe and healthy!