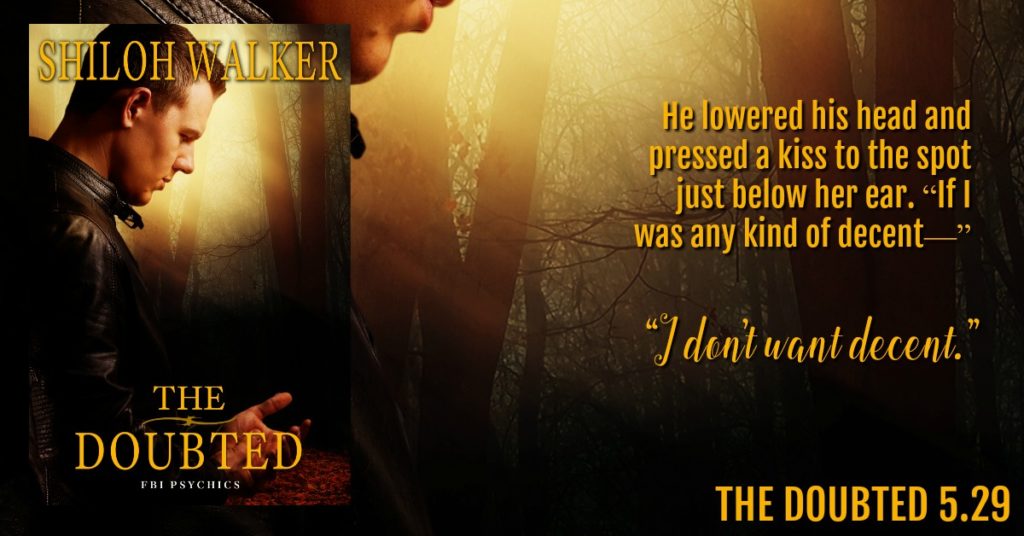 "You want me…don't you?"
One long stride closed the distance between them and he reached up, gripping her shoulders in hard hands. "I don't think want covers it. But this… You're not thinking…"
"If you tell me I'm not thinking clearly, I'll hit you," she warned. She hadn't ever hit anybody, but she thought she just might enjoy hitting him if he said those words. Narrowing her eyes, she said, "I'm thinking just fine. I'm thinking about the fact that a couple of days ago, I drove by my boyfriend's office only to discover it wasn't his office and when I called, I got his wife on the phone, then I found out he's got kids in two different states. I'm thinking about how my head feels like it's going to come apart and I'm thinking about all the shit I'm seeing, the voices that won't shut up and all the stuff I see happening—something that my head tells me is impossible, but I see it anyway. And…"
She sucked in a breath as her words tumbled to a stop.
His thumb stroked over her skin and she shivered. "I'm thinking that for all I know, I'll be dead in a week, in two days, in two hours even. And I don't want the emptiness that's been my life for the past couple of years to be the only thing I can look back on."
She waited for him to break away.
She waited for him to say something sensible and logical in his low, harsh voice.
And while she was waiting, he backed her up against the narrow table tucked in next to the wall. "So what do you want?"
His thumb did another slow stroke against the sensitive skin of her upper chest.
"I want you."
His thigh pushed between hers as he crowded in closer. He lowered his head and pressed a kiss to the spot just below her ear. "If I was any kind of decent—"
"I don't want decent."
Amazon | BN | iBooks | Kobo | Smashwords