My upcoming romantic thriller, Pieces of Me, is starting to show the pre-order links for the print version…I know not everybody wants to read ebook, so this is going to be available in print, too!
Right now, it's showing at BN for $9.87 in print.  It's a trade paperback, so yes, it's more expensive than the mass markets.  I kept the price as low as I could for the format.
More on the book!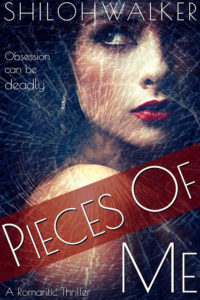 Obsession can be deadly…
Nobody knows that better than Shadow Harper. It seemed like a dream come true when a rich, suave older man noticed her during her second year of college. Stefan Stockman seemed to love her obsessively. He came into her life and swept her off her feet, seduced her, married her…and then slowly, eventually, that dream come true became a living nightmare.br>
Now, three years after she finally escaped him, she's trying to put her life back together. Haunted by memories, struggling with post-traumatic stress, she spends most of her time locked away in her home on Pawley's Island, a small town on the South Carolina coast. Her rare moments of joy come from her trips to the nearby beach.
She compulsively checks the locks on her doors, makes sure she has her cell phones—five of them—and if she misses something on her schedule, it throws her into a panic.
When she accidentally leaves a sketchbook on the beach, an anxiety attack seems imminent. Her art has become her salvation, her sanity, and losing even one sketch is like losing a piece of her soul. When she returns to hunt for the sketchbook, already fearing it's gone for good, she's surprised to find it still sitting there, saved by a sexy fellow beach lover—the mysterious Dillian Jenkins.
He's brash, bold, brutally handsome…and gentle. He's the exact opposite of the man who'd tormented her for years, and Shadow finds herself slowly, almost reluctantly, falling for him. Even obsessing over him.
When her ex-husband once again intrudes on the happiness she's finally discovering, Shadow turns to Dillian. But will she find shelter there…or another betrayal?
Available in print & ebook in July
Amazon |  BN  |  Play  |  Kobo | Book Depository | iBooks
**I've contacted my distributor about getting the title up on Netgalley, so expect that soon.