What am I talking about?  Books, of course…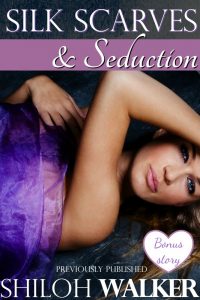 Marc has a secret admirer…or maybe not so secret.
The black and white photographs were the first clue. The silk scarf was the second. Marc didn't need any other hints.
The sensual, secretive gifts were all Blush Taylor. Blush-the girl who had driven him crazy since high school.
The question is…why is she taunting him with these sexy gifts? And why now?
includes a bonus story, One Night With You
Excerpt
"So what's it like to be almost old, Doc?"
He lifted his eyes and stared into Blush's merry brown eyes.
"What?"
"You're thirty-five now…few more years, you'll be forty. We used to think that was ancient," she teased him lightly, propping her shoulder against the door. "How does it feel?"
He clutched the scarf in his hand, crushing it. A scent, soft, seductive…familiar …drifted up to tease him and his eyes widened, his nostrils flaring as he dragged more of it into his lungs, all the while staring at Blush.
Her scent was on that scarf.
He had to force a slight smile, and he knew that his voice sounded like rusty nails as he responded, "Can't say just yet, Blush." Then he couldn't resist as he added, "Why don't you come and give me a spin?"
Her eyes widened. The tip of a pink tongue darted out to wet her lips—if he didn't know better, he'd say she was speechless.
Her eyes fell to the pile on his desk and she asked softly, "Birthday present?"
He grinned wickedly, "I'd say. Wanna take a look?"
She blushed. Her trademark.
And he knew.
"I've got stuff to do. I'll have to take a rain check."
SEALIONAIRE: Book 2
A Navy SEAL Romance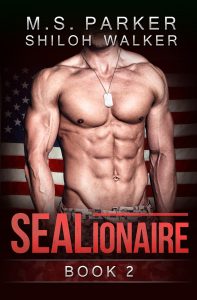 Former Navy SEAL Adam "Reaper" Dedman is cruising toward the bottom of the pit of despair. The Navy has washed their hands of him and now he's got nothing else to do but waste the rest of his life. Or so he thinks.
Down on his luck and running out of choices, Reaper agrees to meet the man who walked away from his mother. If not for anything else, it'll give him another chance to get close to the mysterious but oh so sexy, Olivia "O" Darling.
Don't miss Book 2 of the sexy Navy SEAL romance trilogy, SEALionaire, as it turns up the heat.
includes a bonus story from M.S. Parker
Excerpt
Play games. Please…play games. Or let me play them.
"You going to tell me how long you've been back? Or are you in the mood to play games?" She stared out over the yard, her expression bland.
"Well, let me think." I ran my tongue across my teeth and did a quick mental calculation.  "Probably about thirteen hours, give or take."
"Thirteen hours. Give or take."  She seemed to turn that over in her head, then nodded.  "I don't want to sound rude, but you look like shit."
"You don't." It popped out of me without me realizing I'd planned on saying it.
It was the truth though.  She'd done…something. It was subtle.  Her hair was a little different. Softer somehow, but nothing major.  And the blocky, ugly suits she'd worn each time I'd seen her were gone.
She wore red.
Power red.  That's what it had to be.  The LT was married and his wife had used that term a time or two.  Tina—Hawk's wife—ran her own marketing and promotions company out of her home, as well as raising her son.  I was sort of terrified of the woman, if I had to be honest.  I can recall a barbeque he'd had at his place once and some of the women had been gushing over a pair of red shoes one of the women had been looking at one a computer but they'd hated the price and Tina had said, Get them and screw the price…every woman needs a pair of shoes in that shade of red at least once.  Power red. It makes the world sit up and notice.
Only it wasn't a red pair of shoes O was wearing.
It was a form-fitting dress that highlighted those long legs and those strong shoulders and I wanted to peel that skirt up and find out what she was wearing underneath—then I wanted to get rid of it and bury myself inside her.
Tina was right.  That shade of red made the world—and my dick—sit up and take notice.
Currently only available on KIndle.  Will be available on other platforms in 90 days.