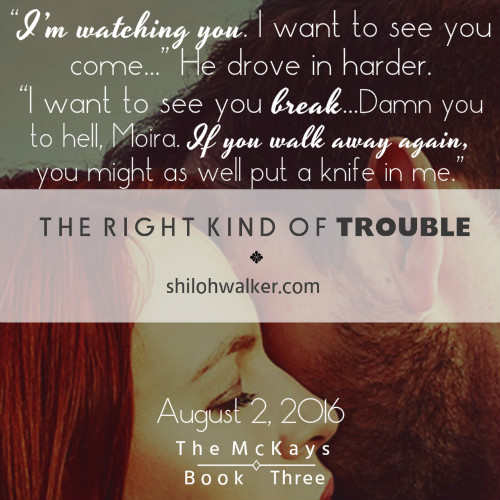 The Right Kind of Trouble releases on Tuesday!
Desire won't take no for an answer.
In the small Southern town of McKay's Treasure, everybody knows that the handsome local police chief, Gideon Marshall, has been carrying a torch for Moira McKay. It's also no secret that Moira has been rejecting Gideon since…forever. But after an attack from a mysterious stranger bent on taking down the McKay family, Moira becomes filled with distrust toward most men. Now she wonders whether she's been wrong about Gideon all along—and if it's not too late to admit him back into her life…and into her bed…
Gideon has finally convinced his wasted heart to give up on Moira, who he's loved since he was sixteen years old. Moira's attack changes everything, however—and he vows to protect her. But how much is he willing to risk for a woman who's always kept him at bay…until now? And is it too late for Moira to tell him that her love for him has always been locked deep in her heart—and he holds the key?
Amazon | BN | Book Depository | iBooks | Indiebound
---
The guy and I celebrated our twentieth anniversary on 7.27.  Last Saturday, we renewed our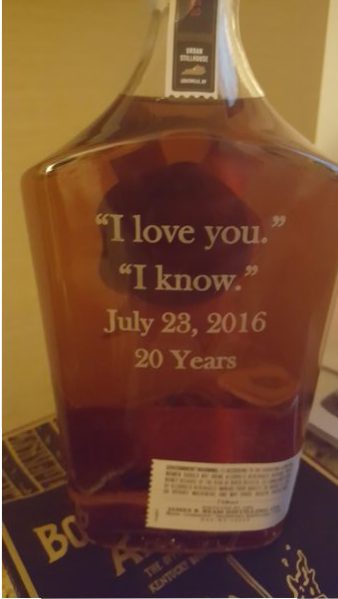 vows…at the very same church where we got married.  🙂  Our kids stood up with us this time and then the guy and I went to Louisville and stayed at the Seelbach and played tourist.  This is our souveneir. Is it not AWESOME?
It's been an insane summer. I mentioned our trip to Mexico (just the guy and me), but Diva (oldest) is starting her senior year, so she's making college visits and we also had our family trip.  We went to Virginia, one of our favorite places.
Then there were two book releases…oy.
So things have been pretty hectic. Thus the silence on the blog.
Hopefully with school starting back up, things can get back to normal.
---
NEWS
I got an email from my agent. Audible is buying the Colbana Files and Her Best Friend's Lover and putting them into audio! All five full length Kit books will go into audio…no idea on dates yet.  The deal was just made official this week and I'm still waiting on contracts.
But…KIT IS GOING TO AUDIO!  And Her Best Friend's Lover…my first published book!
Yes. I am excited.
Ahem.
Carry on.