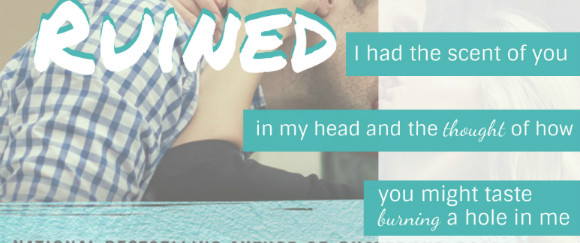 "Back away, Marin," he said in warning.  "Or…"
This time, he pressed his lips to her neck.
She let her head fall to the side, eyes closed.  This was stupid.
It was so stupid.
But as he skimmed his hands down her sides, she reached for his biceps and clung. Hard muscle bunched under her fingers.  He moved between her thighs more fully and through her skirt, she felt more of him and her head started to spin.
"Back away…"
She reached up and shoved her fingers into his hair, tugging his head back.
His gaze focused on her face.  "Do you see me?" she demanded.
"All the fucking time." He bit her lower lip then stroked the small hurt with his tongue.
She almost collapsed into a whimpering puddle of want, but forced herself to keep her eyes on his face, searching for…something.  He was steady on his feet.  He was looking straight at her.
When he kissed her, Marin felt her toes start to curl and she decided she was done trying to think.
*Ruined is releasing from Intermix, a digital only line.  It will not release in print.  See more here. Please note this was a publisher decision.
One of the Barnes brothers, Sebastien has always felt blessed. Not only does he have an amazing family, but he's become a Hollywood golden boy who has everything he's ever wanted—with one exception. He's had a thing for Marin since he was a kid, but when he finally summons the courage to ask her out, she turns him down. Marin is ready to settle down, she wants commitment and stability, and Sebastien is still too much of a playboy, caught up in the wild life of the spotlight.
Still reeling from the rejection, Sebastien's luck runs out later that night when he saves a girl from an assault. The shining knight role fits him just fine, but his armor—and his perfect life—become tarnished when the near-deadly attack lands him in the hospital. Physically scarred, he gives up acting and retreats from everybody.
If anyone can pull Sebastien back from the abyss, it's Marin. But first she has to convince him that beauty is not only skin deep…