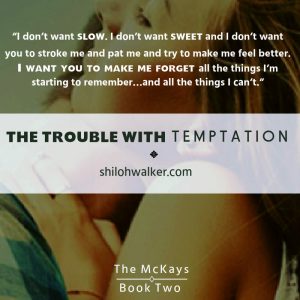 Hannah had a pale, bruised look to her.
Brannon wanted to find whatever had hurt her and tear it apart.
She stood in the doorway, staring at him and he reached up, cupped her face in his hands.
Slowly, he brushed his thumb across her lower lip.
A slow shudder wracked her body.
"What's happened?" he asked. "What's hurt you?"
Clouds entered her eyes. "Nothing," she said, shaking her head. "I'm just…"
She backed up and turned. "Come on in, Brannon."
Outside, the wind started to howl and she moved over to the window, staring outside. "Rain's coming."
After closing and locking the door behind him, he crossed the floor to her.
He had the oddest feeling he was walking on eggshells.
"Unless you're upset over the weather report, then I don't care." He curved his hands over her shoulders and pulled her back against him. "Now if you are upset by the weather… well, I can't do anything about it. I can't beat up the meteorologists and Mother Nature never returns my calls."
"She's a bitch, isn't she?" Hannah laughed weakly. Then she dropped her head back against his chest. "Don't…it's nothing, Brannon."
He rubbed his cheek against hers. "That look on your face isn't nothing."
"Maybe. But there's nothing you can do about it." She turned and slid her arms around his waist. "How is Marc doing?"
He wanted to push it, but figured now wasn't the time. "Okay. I guess." Tucking her up snug against him, he rubbed his cheek against her hair. "He's busying himself with some blends for next year and going crazy about a fungus that he thinks could hit our crops."
"A fungus." Hannah wrinkled her nose as she looked up at him. "What, like a grape fungus?"
Brannon flashed her a grin. "The exciting life of a vintner, Hannah."
"Hmmm. I bet." She reached up, almost absently, and scraped her fingers against his jaw. "Neve was telling me something about how she's getting schooled in winemaking—you roped her into helping write copy for the brochures." A faint grin came and went. "I've got to admit, I like my wine, but my eyes glazed over after she started explaining there are like five hundred chemical compounds—"
"Fifteen hundred."
Hannah blinked and then her eyes really started to glaze. "Ah…whoa. Are you serious?"
"Yeah." Grinning, he hugged her. "But don't worry. I won't bore you with the details and specifics, or tell you why you only find wines like muscadines down south."
"Gee. Thanks." She rubbed the mound of her belly and went back to staring outside. Rain was starting to come down. It was those hard, slow drops that were a prelude to a heavy storm. "I really don't want to talk about muscadine wine anyway. Seeing as how I can't have any for a few more months."
A heavy sigh escaped her. "I could really use a glass of wine, too."
"Why don't you talk to me instead?"
For a moment, he thought she would.
But then she turned to him and placed her hands on his chest.
His heart made a hard leap when she covered it with her palm. "I've got a better idea. Why don't you distract me?"
Brannon suspected it wasn't smart.
Whatever was bothering her, she really did need to talk about it. And he needed to be the guy she was able to talk to. He needed to be the guy period, because he was shit-faced in love with her and had been for…hell. He didn't even know when it had started.
But then she trailed that hand down lower and cupped him through his jeans.
His eyes started to roll back in his head as she freed him from his jeans and briefs in short order. She closed her hand around him, moving with quick, rough strokes that would have had him coming all over her if she wasn't careful.
He caught her wrist.
"Stop," he rasped, backing her up against the window.
"I don't want to." She lifted her face to his, staring into his eyes. "I don't want to stop. I don't want to think. I just…want."
"Hannah…" His heart broke a little.
"Make love to me, Brannon." There was both plea and demand in her voice.
He was completely her slave, because he couldn't deny her.
"I will." He went to strip her shirt away, but she shoved him back and yanked it off.
"I don't want slow." She stared at him, a challenge in her eyes. "I don't want sweet and I don't want you to stroke me and pat me and try to make me feel better."
She caught the lapels of his shirt and jerked him back to her.
"Then what do you want?"
"I want you to fuck me." She stared at him, her gaze unapologetic. "I want you to make me forget all the things I'm starting to remember…and all the things I can't."
There, he realized.
That's where the hurt was. Right there. But he couldn't fix it. All he could do was be there…and this. He could do exactly what she'd just asked and he'd enjoy it. He'd enjoy it and pretend the twist and rub of guilt didn't exist. He could ignore the guilt.
Amazon | BN | The Book Depository | Kobo | iBooks | Indie
Love is the greatest risk of all.
After seven days in a coma, Hannah Parker remembers nothing about the accident that landed her in the hospital–or how she ended up pregnant with Brannon's baby, the man she's loved since high school. Her body and heart have burned for him for years, and when she wakes up, he's sleeping by her bedside, anxious to keep her safe at all costs. But as Hannah struggles with her amnesia, a threat looms closer–one that could have deadly consequences if she recovers her memories. She will have to trust Brannon completely if she is to keep what haunts her at bay…and their baby safe….
Brannon McKay spent the last ten years fantasizing about Hannah. In his mind, he's explored every passionate scenario he can think of while, in real life, Brannon took their budding relationship and threw it away with both hands. Hannah doesn't remember what happened but now that she is awake, Brannon would rather die than watch her walk away again. When Hannah and his unborn child's lives are threatened, Brannon must stake claim to the woman who has held his heart captive for years…or risk disaster tearing them apart…