This is the catchphrase that Jade Lee introduced us to sort of explain the experience you have when you're fortunate enough to meet Barbara Vey.
And it's an experience.  🙂  I met Barbara a while ago and she's a lovely woman, an avid supporter of authors, readers, the romance genre and reading in general. She is so much of a supporter of reading, she can be lying on a surgical table and instead of asking questions about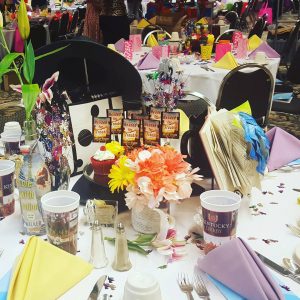 the upcoming surgery, she will ask her nurse if she likes to read…
The nurse said no.
She said she wanted another nurse…and apparently somebody on her surgical team recognized her from that alone!  Yes…this is the story she told at the Barbara Vey Weekend this past Saturday.
It's a fun time…so much fun.  Authors decorate up their tables…I was a little too spazzed out and trying to take it all in to grab pictures (yes…I didn't grab a lot of pictures…let that settle in), but I did take one of mine.  I went with a mash-up of sorts with booklovers and the upcoming Kentucky Derby & Oaks.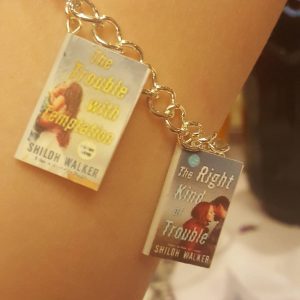 Each table has one author paired with seven readers–readers choose who they want to sit with and some of the authors, like the big mega names sell out fast.  I had some lovely ladies sitting with me…and one of the made me an adorable bracelet with the covers from my McKay series. She also had this Star Wars purse–I wanted it so bad.
After the luncheon, there's a huge signing and later on, there is a pizza party, followed by games.  One of them was romance mad-libs.  I have to tell you…a whole bunch of people discovered that if I get started on laughing, I sometimes can't stop.  And sometimes, it triggers my asthma. o.o  I probably looked like a maniac.
Sunday was breakfast and a little more low key. Again, I had a table full of lovely readers and then I was on the road.
It was a fantastic event and I hope to have the chance to go again.
And if you have the chance to go? Do it. Read more about Barbara and her weekend here…