Releasing the first at the end of the month. It's a friends to lovers, one night stand…if you like that kind of thing.
If you review and are interested, leave a comment and where you'd like to post a review below.
2016 Reissue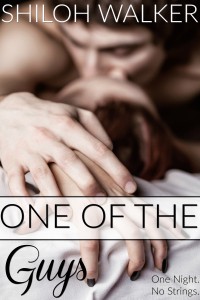 Complete and utter humiliation—that was what Jaynie felt as she stood in the doorway watching her fiancé playing out his ménage fantasies with his best friend and the cute neighbor from across the street. Bad enough that the cute and sexy neighbor is the woman her fiancé clearly wants her to be, but now she finds the man she loves in bed with the woman. To add fuel to the flame, he later tells her that she couldn't be a real woman if she tried.
Humiliated and hurt, she's hiding out at her best friend's house and ends up coming across her friend's older brother Brian. Brian…hot, sexy…also her partner from work. The last thing she needs is another complication, but she can't think about that right now.
The heat in his eyes, the desire she can see on his face—that is something she does need and she offers him one night, no strings.
But one night of no strings turned into something neither of them could have counted on. Brian's take-charge attitude in the bedroom and his oh, sexy, smile are getting to her.
Friends all their lives, they've played together, now they work together. Faced with the most important question of all, Jaynie has to figure out…can they work together?