Weekly wrap up of stuffs…
First up… have you read the first two novellas in Thirty Nights With A Dirty Boy?  The serial is FREE for members of the Heroes and Heartbreakers community.  Just hop on over and read.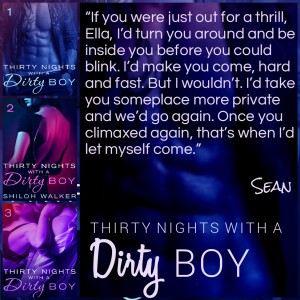 Only a few weeks left until Headed For Trouble comes out…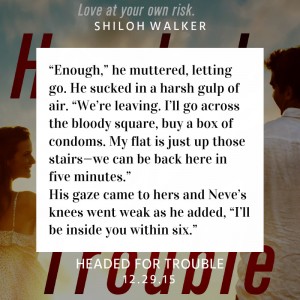 SHE'S A SMALL-TOWN GIRL WITH BIG DREAMS.
Nine years ago, Neve McKay fled her small Southern town and disapproving family to seek a career in the big city. Now she's finally coming home and hoping for a fresh start. But the relationship that shattered her world still haunts her. And even among her nearest and dearest, she doesn't feel safe.
CAN THIS BAD BOY BE THE ANSWER TO HER PRAYERS?
Ian Campbell is a pure Scottish muscle-as hard and handsome as they come. But when Neve walks into his bar, his heart melts and he vows to have this gorgeous and somewhat vulnerable woman in his life-for better or for worse. What is Neve's tragic secret? And how can Neve expect Ian to protect her, when doing so could put his own life at risk? The only thing Ian knows for sure is that he will do whatever it takes to keep her out of harm's way and in his loving arms.
Headed For Trouble is available on Netgalley for those who review… find it here.
And…speaking of Headed for Trouble…would you like a signed copy?  Yes? Yes!
Awesome.  Hop over to Turn the Page Bookstore's website and order one, cuz I'll be signing there with my good buddy Nora Roberts. (cough cough).  Hey, we knocked wine together before, so I can totally say that.  (saying it doesn't mean it's fact, but let me dream.)
This is my dorky way of announcing that I'll be signing at Turn The Page in February and you can order signed copies and I'll personalize them to you.  And it doesn't have to be the books listed on the page.  If there's a book that is available in print, you can contact the store and request it. They'll see if they can order it and if they can, they'll get it and I'll sign, then they will ship after the signing.  Also, as long as you are on planet Earth, they ship.
🙂
Details for the signing if you'd like to come…
Turn the Page
18 N. Main Street, Boonsboro, Maryland
Saturday, February 6th from 12pm-2pm EST
Featuring
Nora Roberts / J. D. Robb • Shiloh Walker • Kimberly Kincaid • Sheila Connolly • Cathy Maxwell • Virginia Kantra • Eloisa James plus local authors Alexander B. Rossino • Roger Engle.