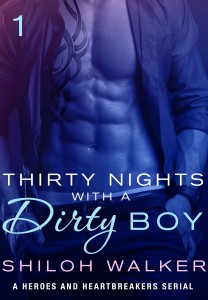 Money Can't Buy Love…
Ella Cruise doesn't like to be touched. A survivor of childhood abuse, she craves security in all aspects of her life: fulfilling work at the nonprofit she runs, more than enough money to live comfortably, and a good friend and confidant. But none of it can ease her longing for intimacy, even if just for a night. When she meets a gorgeous bartender who moonlights as a male prostitute, a bold idea begins to take shape…
But It Can Buy a Night of Passion–or Thirty…
Sean Lachlan is stunned by the cool beauty's offer: 30 nights of no-strings sex in exchange for all the money he'd need to start over. The deal seems too good to be true, especially since his desire for her is no act, but Sean finds he can't turn her down. Before they know it, Sean and Ella realize they're in deep, their defenses crumbling. Will thirty nights with a dirty boy be enough after all, or will love lead Ella and Sean back to the negotiating table?
A 20,000-word HeroesandHeartbreakers.com original novella
Read more about Ella & Sean
Okay…now that is the official blurb for book one.  The link will take you to the page for the serial where you can read more on all three.
🙂
Here's something else…
All three stories will be released for free to read on Heroes & Heartbreakers for members of the community. Yes, that does require signing up, but hey…free reads! The first story will be available in Novemer, with the other two to release in late November and early December.
For those who want to buy their own copies? They can do so in February, thus the pre-order links.
If you check out Ella & Sean, I hope you love them. I had so much fun with them.