[su_quote cite="Seduced in Secret"]You.
Me.
Whipped cream & handcuffs.
Any questions?[/su_quote]
I talk about lightning strike books a lot…where an idea pretty much just hits me out of nowhere and this was honestly the first one that blasted me like that.  It was twelve years ago maybe, and I wrote the 12000 word story in a rush, over four hours.
It was one of my steadiest sellers for the longest time.
Rights reverted to me a while back and readers have been asking for me to reissue WHIPPED CREAM & HANDCUFFS but when I was reading through it, I knew it could be better.
So I had to make it better.
The idea of the book is still the same, but the heroine is stronger and the hero…well, he was a douche.
I have to like my people before I can try to sell them to my readers.  I know a lot of people loved Caleb and Tessa as they were…I hope you'll like them even more now.
The story has been HEAVILY rewritten and revised, pretty much a new book entirely, just based off the same idea.
And it's yours…for the low, low price of 0.99  🙂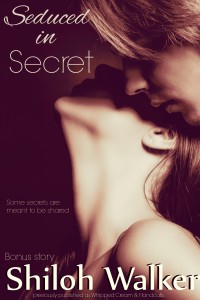 Best laid plans…are meant to be broken.
Life laid out, Tessa had everything set. Engaged to marry the perfect man, a rich, great-looking doctor, she was content with her life, or so she thought. Then the gift arrived. Delivered to her office on Valentine's Day, it was filled with handcuffs, sexy little toys and a suggestive little card.
It wasn't from her fiancé, either.
When the emails and the phone started coming, she should have been able to brush them off, except the man said something that left her uneasy…and not because he scared her, but because he was right. Your fiancé will never make you happy, Tessa.
Confused, she starts looking at her fiancé, her life…and other things…in a whole new light. One of the things she finds herself considering is her best friend and neighbor, Caleb. He's always been there. Even when he spent years in the Navy, Caleb was the one she could count on and now isn't any different. He's there to listen when she needs an ear and he's got nice, strong shoulders when she needs one to lean on.
It doesn't her long to realize that one thing is certain—her fiancé can't make her happy. But now she doesn't know whether she wants to take a chance on her sexy secret admirer…or Caleb, the man who's been there waiting for her all along.
It includes a short bonus story called Don't Walk Away.
Seduced in Secret was previously published as Whipped Cream and Handcuffs. It has been extensively rewritten, revised and expanded.
Excerpt
One kiss became another, and then another.
Then it ended and she was sitting her seat, panting. Caleb was gone.
His door had opened, shut.
She looked around, confused and then jerked her ahead as he opened her door.
He pulled her out and she all but sagged against him, desperate for another one of those kisses.
He pushed her back up against the car, his hips pinning hers in place as his hands buried into her hair, twisting and twining and arching her head back for another kiss. "Open," he growled. "Open."
She did.
His tongue came into her mouth and she sucked on it, greed taking over.
Caleb shuddered.
She slid her hands down his chest and wrapped her arms around his torso, gripping him tight. She arched closer, rubbing against him. Inside the silk of her bra, her nipples were tight, swollen and throbbing. She couldn't get close enough.
∞
Silken smooth skin lay below the hem of her skirt.
Caleb felt just a few inches as he worked the tight material up and then he encountered something else—tight and form fitting, like she'd poured herself into it. He wanted her naked. Now. Thought about just shoving the skirt of the dress up over her ass, and whatever fussy feminine thing she was wearing under it. Then he could bend her over.
His mind had already processed the terrain around them. Left over from his time in the Navy.
It was too bright out here, the light from the garage shining down on them.
He could get her up to the porch. There was a darkened corner there—
Tessa moaned out his name and he went rigid.
What the fuck are you doing?
Slowly, he eased away.
When she tried to follow his mouth, he brushed hers with soft, soothing kisses.
There was no way in hell he could possibly do this.
Not with Tessa.
She'd finally seen him.
He couldn't risk blowing it.
A few strained seconds passed, her heaving chest rising to meet his own and then she opened her eyes.
 iBooks | Kobo | Amazon
 | BN | Smashwords |