Have you been looking for this book? It's coming your way…next week.  It's been expanded, revised and pretty much rewritten, thus the new title.
There's also a bonus short!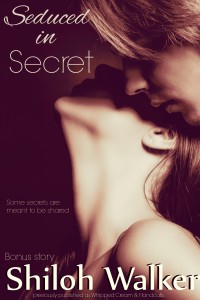 Best laid plans…are meant to be broken.
Life laid out, Tessa had everything set. Engaged to marry the perfect man, a rich, great-looking doctor, she was content with her life, or so she thought. Then the gift arrived. Delivered to her office on Valentine's Day, it was filled with handcuffs, sexy little toys and a suggestive little card.
It wasn't from her fiancé, either.
When the emails and the phone started coming, she should have been able to brush them off, except the man said something that left her uneasy…and not because he scared her, but because he was right. Your fiancé will never make you happy, Tessa.
Confused, she starts looking at her fiancé, her life…and other things…in a whole new light. One of the things she finds herself considering is her best friend and neighbor, Caleb. He's always been there. Even when he spent years in the Navy, Caleb was the one she could count on and now isn't any different. He's there to listen when she needs an ear and he's got nice, strong shoulders when she needs one to lean on.
It doesn't her long to realize that one thing is certain—her fiancé can't make her happy. But now she doesn't know whether she wants to take a chance on her sexy secret admirer…or Caleb, the man who's been there waiting for her all along.
It includes a short bonus story called Don't Walk Away.
Seduced in Secret was previously published as Whipped Cream and Handcuffs. It has been extensively rewritten, revised and expanded.
Caleb pushed the doorbell again.
He was fifteen minutes early.
When the door swung open, Tessa stood there flushed with her hair tousled and her eyes  snapping.
She glared at him.
"You're early, damn it.!"
He stared.
"Well?"
She crossed her arms over her chest, tapping one bare foot.
He dragged a hand down his face and started mentally reciting one of the legal cases they'd been given to study. It was dry, bland, boring. It had absolutely no effect on the hard-on that was pulsing inside his trousers.
As Tessa continued to glare at him, he lifted the bottle he'd brought over.
She scowled at him and then, her eyes softening, she reached out and took it. "You bum," she said, sighing. "When did you have time to go out there?"
He shrugged. No reason to tell her he'd gone by her favorite winery a month or so ago, when classes had been on spring break, and picked up a case of her favorite wine, right? It was a couple hours away, so she usually didn't get up there very often, either.
"It's cold," he said.
"I can tell." She slid him a look as she strode into the kitchen.
His eyes narrowed on the strip of pale flesh visible through the open zipper of her dress.
"Since you're frazzling me by showing up early, I'm having a glass."
He moved up behind her as she pulled a corkscrew out of a drawer. "You're open."
She stilled. Was it just him, or did her breath catch as he slid the tab of the zipper up?
He wanted to press his mouth to the vulnerable skin at the nape of her neck. Wanted to bite her. Right there.
Instead, he fell back and waited as she poured two glasses and offered him one.
He took it, although her taste in wine ran to the sugary side.
She took a sip and then nodded down the hall. "I need to finish getting ready."
He said nothing. He was tempted to duck into the hall bathroom and deal with his immediate, physical problem, but he wouldn't.
He'd been hiding how he felt about her for too long and he'd already decided it was time to stop. Either Tessa could accept it and they could make something together…or he'd just been fooling himself.
Either way, he needed to know.