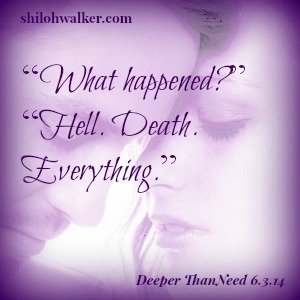 "So what happened?" she asked, sliding a hand around his waist.
He wanted to turn back to her and lose himself. Forget the darkness, forget the pain, the misery. Forget everything but her.
Trinity rested a hand on his shoulder and he locked his limbs to keep from giving in to that urge. It all but consumed him. He knew the oblivion he could find in a woman's arms. It had given him comfort for a long, long time. And this need went so much deeper. The need for Trinity all but consumed him.
"What happened that day?" she asked quietly.
iBooks | Indiebound | Amazon | B & N | BAMM | Kobo