J.C. Daniels type of stuff…
Amazon & BN still have the Kit books discounted to 1.99.  It won't last much longer, I don't think and Broken Blade is only discounted on Amazon.  The other sites already have them back to regular price, so grab it while you can if you're interested.
Broken Blade Amazon
I've had people asking again why they can't find the Kit books in print in stores.  You're not going to, unless you find an indie who just really likes them…and if you do, please let me know where this bookstore is so I can adore them.  But your local bookseller, be it chain or indie, should be able to order it.
If you prefer to order online, or don't know where a local is, here are the links to find them.  FYI, if you don't live in the US, Book Depository is wonderful option.
Secrets & Shadows news!
Deeper than Need is up on Net Galley.  I don't know how long it will last, but it's there.  If you're a reviewer, get the request in fast.  FYI, I have no say in who gets approved.
Long for Me comes out Tuesday.
This is one of my favorites bits in the book…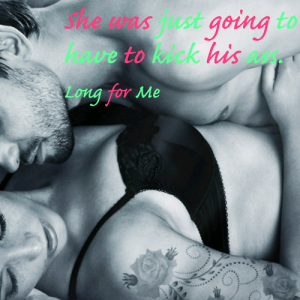 Please. Don't make me beg—
Those words hovered on the tip of her tongue, but then, words and thought lost all meaning as the hand he'd tangled in her hair moved, bringing her in closer to him.
Hunger, anticipation, vied inside her and she rose up onto her toes to meet his kiss.
But he didn't kiss her.
His lips feathered across her cheekbone, brushed down her jawline to her neck.  She whimpered as he tugged her head to the side, exposing her neck, but before she could even think about complaining, he pressed a hot, open-mouthed kiss to her neck.
At the same time, his other hand pulled her skirt up.
She gasped as cool air kissed her flesh.
His hand, rough and warm, palmed her flesh and he muttered, "Damn.  Here I was getting all worked up and you had to go and decide to wear panties."
It surprised a laugh out of her.
"I always wear panties when I'm wearing a dress.  And how do you know that I tend . . ."
She lifted her head to meet his eyes and the words stuck in her throat.  His eyes, those dark gray eyes, burned hot.  "I've got a fascination with how your ass fills out a pair of jeans, Tink.  I can tell you how many times you've worn panties every day this past week."
Read more