For those who celebrate, I hope you had a lovely Easter. We went to sunrise service at church, then had a family pitch with all my brothers, their wives, the kids, my mom…
Comics & movies were discussed. "Who is best…Thor, Superman, the Wolverine or the Hulk…"…then we moved on to the topic of…"Would the Hulk survive if he was fired into the sun?"
So, yeah. That's an almost normal discussion for my family.
We're extremely excited about the movies coming out this summer. Books were also discussed.
I might have introduced my oldest nephew to J.D. Robb. He's a guy who doesn't mind a little bit of romance in his reads. Which kinda rocks.
Speaking of romance…I have another one due out tomorrow…
Break for Me the second Secrets & Shadows novella, telling the story of Jensen, continuing the story of the Bell siblings.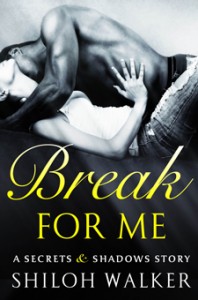 Everything inside her seemed to melt as his hands raced over her.  Long, agile fingers grabbed the hem of her shirt and before she had a chance to steady herself, he stripped it off.  Two seconds later, her bra followed.  She blinked, dazed, and looked down just in time to see him trailing his fingers down the midline of her torso.
"So damn pretty," he mused, his voice low and dark and smooth.  It sent shivers down her spine and she found herself mesmerized by the sight of his hands on her.  His hands, beautiful and so dark against her flesh, slid up and cupped her breasts.
She could feel a blush rising up to stain her cheeks red.  She'd never been terribly self-conscious but in that moment, she was.  Her body was what it was—strong, capable, not overly female.
"Look at me."
Slowly, she lifted her head and found herself staring into his eyes.
"I think I've imagined seeing you naked about a thousand times now," he said.  "I didn't even come close."
She didn't know how to respond to that.  Fortunately, she didn't have to.
Amazon | BN | Kobo | iBooks | Google Play