Apparently when I do virgins, I make them ornery and mouthy.  Anyway…Jay has a reason for 'no touching' policy.
Sex is kinda difficult, when you're a psychic who has bad feedback from the simplest touch, right?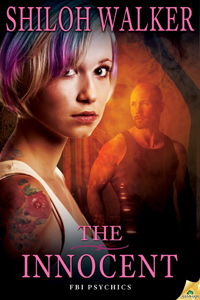 For a woman he can't touch, he'll turn Hell inside out.

An FBI Psychics Novella

There's only one reason Jay Roberts would set foot in a middle-of-nowhere town like Hell, Georgia. She's got a bone to pick with her sort-of boyfriend. They only met online, but things got hot and heavy before their cyber link went silent.

She's here to get in his face for an explanation. But no touching. Her psychic abilities make physical contact…complicated. Yet something about this relationship made her think things would be different. She's not in Hell twenty minutes before bad vibes have her skin crawling.

Corruption has stained the very fabric of Linc Dawson's town, and now it's stolen something very dear to him. The last thing he has time for is nursing Jay's broken heart.

But Jay isn't going anywhere. Not only because she's not giving up on him, because she's got access to the kind of backup nobody wants on their bad side. And Linc discovers the woman who's afraid to touch him could actually be his best chance. At salvation, at hope, at life. Maybe even love…

Warning: This book contains a not-so-naive virgin, a pissed-off former cop, lots of frustration, if you know what I mean, and more trouble than either of them know what to do with.
Excerpt
"You shouldn't have come down here."
Linc's voice, pitched low, was barely loud enough for her to hear it. Turning her head, she studied him the dim light. Skyping with him, the pictures, none of it had done him justice.
His skin was a deep, warm gold, the sort of tan that came from many, many hours spent under the sun, and his eyes were a rather amazing shade of blue. They practically glowed against his skin and when he looked at her, her heart all but stopped.
She'd known he was bald, but the word bald brought to mind something a little less appealing that what he was. His naked scalp had her wanting to press her lips to his skin, skim her hands along the lines of his finely molded skull and learn him by touch.
A neatly cropped goatee and mustache set off a mouth that just begged for kisses.
Well, she'd be happy to give him those kisses, except for her little problem with physical contact.
Right now, she really, really hated that problem.
He was massive. Jay hadn't ever really liked big men, but she definitely liked him. He stood six five, something she'd known beforehand, because he'd told her, but seeing in him person told her just how big he was. He wasn't just tall, either. His chest was a solid wall, one she'd like to lean against just then. Lean against, while he wrapped his arms around her and she listened to the cadence of his heart.
That was something she longed for. Simple contact. She craved it. And now, with him this close, she craved it that much more.
Maybe…
As though he sensed what she was feeling, he pushed off the wall and came to her, sinking down and sliding his hand through the bars. The jail was old, the cells looking like they'd been done sometime back in the 1800s, complete with iron bars. They might be that old, although they'd updated at some point.
She stared at his hand, longing pulsing through her.
They'd made her take her gloves off. No reason to, other than to be assholes, but they'd made her remove her gloves and that skin-to-skin contact…
Slowly, she reached out, touched her fingers lightly to his. She could do light contact for short periods of time as long as her shields were up. There would be a press against her shields, though. But it shouldn't be too taxing. She'd learned to handle light touches a long time ago and she could handle this, surely.
Bracing herself, she tucked her hand inside his—
______________________________________
This is part of a series, but I write these books to stand alone.  The connecting theme is that one or both characters are psychics.  They are romantic suspense, and they do get kinda dark.  Just an FYI.
If you're a reviewer interested in reviewing the book, leave your name below and let me know where you plan to post the reviews- your blog, Amazon, BN or GR (or a combination of) on or near the release date in March.
I'll determine how many ARCs I send out once I see how much interest there is.
Please note, this isn't a contest.  Review copies are being offered in exchange for an honest review-good or bad, just looking for honest reviews.  I'll do a contest for the book closer to release date if I remember.
Thank you!