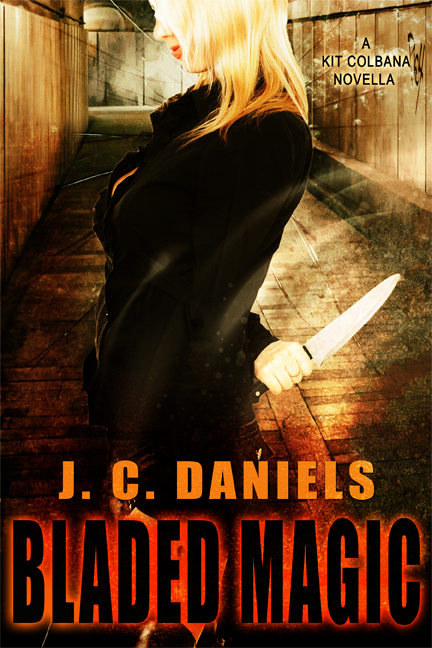 A Colbana Files Prequel
The events of this short story take place between A STROKE OF DUMB LUCK and BLADE SONG.  It can be read as a stand-alone.
For the first time in her life, Kit Colbana's life was going just fine.  She had a nice, easy job.  She'd managed to escape the not-so-loving attentions of a family who'd rather see her dead than look at her.  She had a roof over her head and she didn't have to fight for every little thing she had.
Then she finds herself tangled up with a green-eyed witch by the name of Justin.  He's looking for somebody and for some bizarre reason, he seems to think she can help.  All she has to do is say no, and she can go back to her safe little existence.  That's exactly what she needs to do and she knows it.
Too bad she's not very good at following her own advice.
As you can probably tell by the blurb, this isn't book 4.  This is a prequel, set between A Stroke of Dumb Luck and Blade Song.  It's the story of how Kit & Justin met and how she ended up doing what she does.  It's also a novella.
This book isn't out yet.  It will be.  I'm  putting it up on Amazon and all the other sites, probably in March.
I would like some blogger help spreading the word.
In exchange, I'm willing to offer a limited number of ARCs…how many depends on the interest.  I'm willing to give away quite a few…20 or more doesn't faze me, but at some point, I will have to cap it.
If you're willing to post about the book on your blog now…or in the next week-ish, to let people know the book is coming, and then post a review to your blog when it releases in March, please leave a link to your blog in comments below.
Keep in mind, posting below, posting about the book doesn't guarantee you'll get an ARC (the book will be provided in PDF form, just so ya know).  While I doubt it's going to happen, if for some odd reason, I had 200 people willing to post, for the sake of my sanity and the constraints on my time, I can't sent out that many ARCs.
If you don't have a blog, but are a regular on GR or Booklikes and are willing to post about the book, you can request… just leave a link to your profile in the comments.
And while I know some aren't fond of it, being willing to post a review to Amazon &/or BN is very helpful, so if you're willing to do so, please let me know.  The more reviews you have on those sites, the more 'visible' your books can be in searches…something in the algorithms from what I've heard.  This is what I've been told, and I can definitely see it happening. The reviews ~positive or negative ~ are very helpful to authors, so…well… I want them. 😉
Please note, this isn't a contest.  I'll do a random giveaway sort of thing closer to.  Thank you!