This is one that will be out from Samhain in ebook in the spring.  This will pair up with The Unwanted and go into print sometime, probably in late 2014, I think.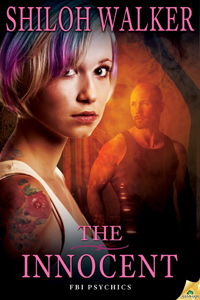 The blurb…
Publication Date: March 11, 2014
Warning: This book contains a not-so-naive virgin, a pissed-off former cop, lots of frustration, if you know what I mean, and more trouble than either of them know what to do with.
FBI Psychics
Jay is in Hell, Georgia, to find out why her sorta boyfriend cut off all contact. But no touching. Her psychic abilities make physical contact…complicated. She's not in Hell twenty minutes before bad vibes have her skin crawling.
Corruption has tainted Linc's town, and now it's stolen something very dear to him. The last thing he has time for is salving Jay's tender broken heart. But Jay isn't going anywhere. And Linc discovers the woman who's afraid to touch him could actually be his best chance. At salvation, at hope, at life. Maybe even love…