Contest is now closed to entries.  Winner to be posted this weekend.
So… this is my only secret baby book.  You've been warned, cuz I know a lot of people hate them.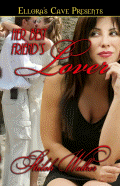 🙂
Dale was thoroughly shaken as he escorted Lauren from the doctor's office. He had never, never, in his life wanted anything the way he wanted the baby Lauren was carrying. When he heard the heartbeat, he thought his own heart was going to explode. It was pure instinct, but everything in him shouted, Mine!
As he opened the car door for Lauren, a different type of instinct was shouting the same thing. He crouched down beside her and spoke her name. She turned her head to look at him, her shiny black hair swinging with the movement before settling around her shoulders. He reached up with one hand, threading it through that dense thick hair, pulling her face to his.
Dale kissed her gently, sucking at her lower lip before seeking entrance to her mouth. The taste of her, something innocent and sweet, touched lightly with the dark heady taste of sex. It was the same as her scent, a complete contradiction in every way. He craved more of it.
He wanted her.
And he was realizing that it wasn't just some temporary need. He wanted her always. He wanted the baby that was growing inside her. He wanted to see her face in the morning when he woke up and wanted to lay down next to her at night. He wanted to make love to her, with her. He wanted to have a family with her and grow old with her.
Gradually, he ended the kiss, pulling back to study her face. She looked at him out of confused eyes, her mouth wet, her cheeks flushed. He decided it was best that the baby's father wasn't interested. Dale Stoner had every intention of taking his place, in both Lauren's life, and in her baby's.
Also, it's dawned on me that this book has now been out ten years.  I've been published for ten years.

So I'm going to give away some copies of this.  Up to 10 copies, depending on how many comments I get.  So, comment away…
Other people doing the snippet thing…
Lauren Dane
Caris Roane
Eliza Gayle
Lissa Matthews
McKenna Jeffries
Taige Crenshaw
Delilah Devlin
HelenKay Dimon
TJ Michaels
Myla Jackson
Felicity Heaton