Tying this up all nice & neat… cuz this was a double-trope book, even.  It was a secret baby with friends to lovers, which is this week's Saturday Snippet.  I'll post the winners from last week at the end.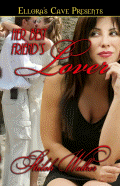 The snippet!
"Lauren, how come you and I have never gone out?"
"We go out all the time, Dale. We went to the mall just last weekend."
Keeping his eyes fastened on the ceiling, he said, "That isn't what I meant. I mean like on a date."
If he had been looking at her, Dale would have had the rare pleasure of seeing Lauren totally shocked. Her eyes widened, her mouth fell open and she just stared at him. Finally, she managed to close her mouth. "Ex…excuse me?" she stammered out, sitting up straighter, her feet settling on the floor.
He swung his legs over, now looking her in the face. She looked perfectly normal to his eyes, that creamy complexion the same, those clear gray eyes the same.
That mouth…Nope. Better off not thinking about the mouth, he decided. "I meant like on a date. I buy you dinner, take you to a movie, a play, a concert. How come we've never done that?"
Calmly, she smoothed her hands over her legs, a faint, mocking smile on her mouth. His eyes dropped to those lean legs as she crossed them elegantly at the knee, then his gaze slowly rose until he was staring at that amused little smile as she said, "Dale, I'm not exactly your type. I'm only a few inches shorter than you, I don't have red hair, and I'm not about to let you pretend I'm a substitute for a woman you can't have."
He narrowed his eyes at her, started to open his mouth to say something pithy, only to snap it shut. How many of the women he had dated fit exactly that description? The vast majority. Granted, Lauren was tall for a woman, but he rarely dated anybody taller than five foot six. And so he was attracted to red heads. Lately, that midnight black hair of hers looked mighty tempting. He was tempted to tug it down from its knot and bury his face in it.
But he was mildly insulted at the last part of her statement. Whether it was because it was the truth or because it wasn't, he didn't know.
So he took a deep breath and said, somewhat cautiously, "Maybe I've decided it's time I changed my type."
"I don't want to be your guinea pig, Dale. If you're ready to start looking for a real relationship, fine. I'm happy for you. But you're not going to use me as a test drive," she stated, flatly, her eyes expressionless.
Now he was more than mildly insulted. "Is that what you think of me? That I'd use my best friend just to find out if I'm ready to get back in the swing of things?"
"Isn't that what you're doing?"
"No," he snapped, shooting to his feet. "I was trying to work up enough nerve to ask you on a date, but now that I realize what your opinion of me is, I think I'll just forget that idea. I'm going home." He barely made it three feet before she was standing next to him, her hand reaching out to him.
"Dale, I didn't mean to hurt your feelings. Or imply anything." She sighed and closed her eyes briefly before continuing. "Dale, you've lived next door to me for five years now. Why in the world are you asking me out now?"
"I wasn't aware I was required to explain myself, "Dale said coldly, looking over her shoulder to the door.
"Under the circumstances, Dale, I think maybe I'm entitled to a little explaining. I'm three months pregnant. This isn't exactly the time for me to start dating, "Lauren said drolly, continuing to block his way. "Is that what this is about? Is it because I'm safe? Because you don't have to worry about me getting serious?"
Amazon | Ellora's Cave | ARe | B&N | Kobo | Book Depository | Powell's
Others on feelings…
Lauren Dane
Caris Roane
Eliza Gayle
Lissa Matthews
McKenna Jeffries
Taige Crenshaw
Delilah Devlin
HelenKay Dimon
Myla Jackson
Shelli Stevens
Jody Wallace
And my winners from last week…I need you to email me at shilohwalker2011 at gmail and put HBFL Winner in the subject. Please let me know which format you'd prefer.
Thanks!
I drew one per 20 (rounded up to 60 since we were close) comments.
1) Lisa with the email… luvd…@ho…..com
2) AmyR with the email… r……amy@ho…..com
3) Gia S denis….@g…..com