I'm trying not to be all dorky and stupid about it, but yeah! I'm signing at Turn the Page! With Nora Roberts! A bunch of other awesome authors, but my brain went blank at the Nora Roberts' part.
Here's the cool part.  If you all would like a signed book from me, you can contact them about ordering it.  They have WRECKED and THE REUNITED, but if you give them enough notice, they can probably order others.  I did mention BLADE SONG and they will see about that.  If you're looking something specific, you can email them.  Contact info is here.
And I promise.  I'll try really hard not to make an idiot of myself in front of Nora this time.  Really.  But I'll probably do it again anyway.
Other stuff…
You know WRECKED is now available, right?  No? It is!   Here… go read some more about it…
There's the authors on a rampage mess where we try to play tricks on you and give you prizes.  This week, we are at Alyssa's blog.
I'm getting questions about whether or not I'll write more about Zach's brothers.  Honestly, I'd love to… but that's up in the air.  It depends on how this one goes and whether or not the publisher wants more.  So…spread the word.  Write reviews.  Tell people you loved it.  The more people who like Zach's story and put the word out, the more likely it is I'll be able to pursue more stories like this.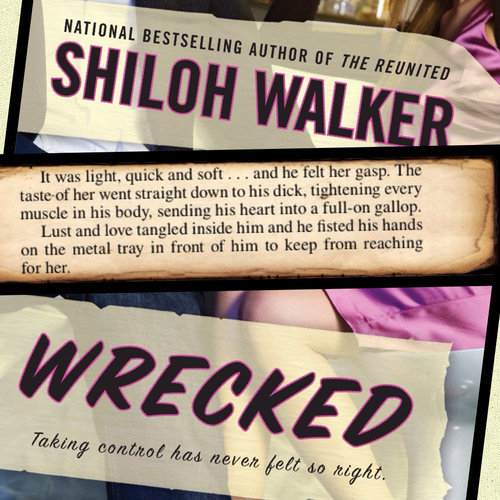 He went to kneel on the bed and stilled.
Abby was staring at him, her breath coming in harsh little pants that had her chest rising and falling in the most interesting way imaginable. A flush started low on her chest, spreading up her neck and higher, higher, suffusing her entire body a pale, gentle shade of pink. Her eyes locked blindly with his and her voice was a little shaky as she said, "Damn it, Zach. When did you get to be so beautiful?"
Something hot and satisfied moved through him as he crawled across the bed and leaned over her, dipping his head to catch her mouth. "Hey, they weren't trying to get me on the stupid Bachelor show for nothing," he teased. He had his share of arrogance, he knew. But nothing equaled the rush of pride he felt right now.
The look of want in her eyes was almost enough to lay him low.