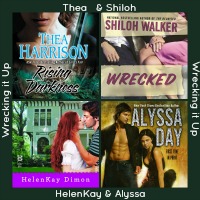 Welcome to Shiloh Walker's latest and greatest latest and weirdest way to spread the word about new books.  This time, she enlisted fellow authors Helenkay Dimon, Thea Harrison and Alyssa Day and there is absolutely NO THEFT taking place…she didn't go on a rampage and steal things.  She's not trying to reunite lost lovers…nope.
These four authors are going to descend upon each other's blogs and cause a tiny little bit of chaos.  I really wanted to WRECK things, but I didn't think I could talk them into letting me crash our websites and that kind of defeats the purpose of promoting our new releases if you can't access the website to read about them, right?
So…instead, we'll just switch things up a little…you play a guessing game and right or wrong, you get entered for fun prizes.  Visit each blog, you get entered each time.  It's easy!
This author calls her man Navy Guy.  She just spent a year in Japan.  It's possible she used to be a lawyer…and she has a thing for B movies.
Who is she?
The Grendel roared out another threat, something about eating his nuts, maybe.  He wasn't sure.  Grendels weren't the brightest, even in their human forms.  Just then moonlight glinted off a very large something in the creature's ham-sized fist, and he dove for her, pushing her flat against the roof just as the gun went off.
"He has a gun," she said.  "An axe and a gun."
"I noticed that," he murmured, distracted by the feel of her body underneath him.  He was going to hell a thousand times over for this, but he hadn't been this close to a woman in longer than he cared to admit, and he took a moment to simply enjoy the feel of her body against his.
"He has a gun," she repeated, her eyes enormous in her pale face.  "We need to do something before he figures out a way to get up here."
"Grendels don't like heights," he said, breathing in her scent, touching his forehead to hers before rubbing his cheek against her silky skin.  "I swore to stay away from you, you know?  Swore to myself.  And yet here we are."
So… which author do think this is? Is it Shiloh Walker, Helenkay Dimon, Thea Harrison and Alyssa Day
You can visit our sites…look through our latest releases, or just take a random guess.  Right or wrong, you're entered!