I finaled in not one, but four categories…
Stolen, Hunter's Rise, The Departed and The Unwilling (Hot in Handcuffs) all finaled!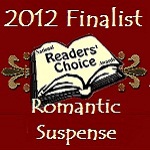 Also…
I have to do another speech.
O.O
See… I won this award.  For Blade Song.  It's the RT Reviewer's Choice Winner for Best Self Published Urban Fantasy.  And next week, I have to figure out a way to tell people thanks… well, more than just thanks.  Can't just say, you all are awesome and I love you?