First… a few people have offered to help out with the negative reviews that are popping up over the incorrect file. Please don't.  The best thing you can do is just post your honest thoughts on the book.  That's all.  🙂  I don't need anybody speaking up or attacking or insulting anybody, especially not over this.  There was a problem and people are upset and/or irritated.
Hell, I am upset and I'm surprised I have any hair left.  There are only a couple of negative reviews at this point and hopefully all this will be resolved and then people can review the book and not the fiasco. 🙂
Second…something happy!
Italy likes me!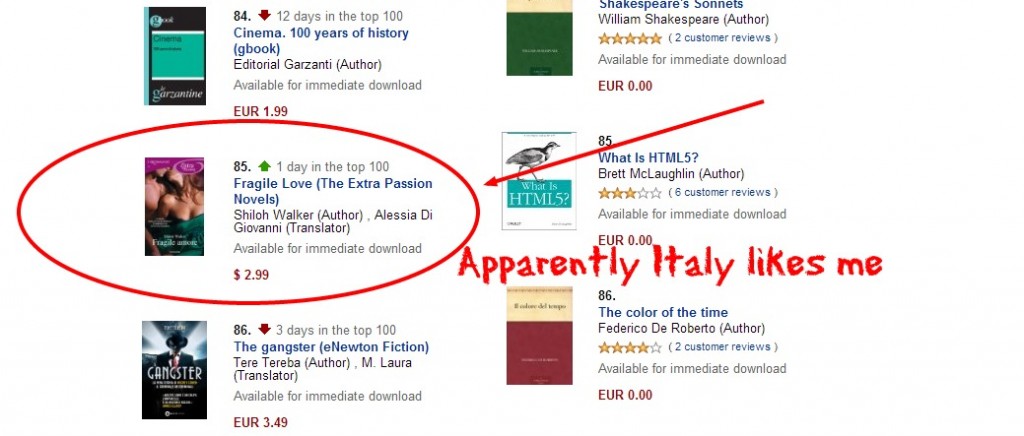 That's the Italian translation of FRAGILE.
It's ranked 85 overall in the Kindle store in Italy… thank you!
Now… onto Night Blade.  Again, thanks for being so patient.  I can't undo this or make up for this mess, but I've marked the book down $3.99 for the next month… hopefully it helps a little.
After people have had a chance to read Night Blade, I plan to post a nice long except of Broken Blade, but not yet.  It's got too much that will be spoiler territory, so in a while, I'll post it and I'll post more than I normally would to thank you all for being so patient.
Here's where we stand so far…
These are the messages I've been given and hopefully, everything is correct and all the timeframes will be met.
B&N update…file will be live tonight.
B&N is looking into an email to notify the readers who purchased it about the update, but I don't know if this will happen.

The amazon listing keeps going up and down, but they do have the correct file.  I was told:
It was due to a database refresh, and they were expecting it to complete in 4 hours
That time is pretty much lapsed so hopefully everything will be finished on that end soon. I have no idea what that means, but I know it's computer/tech related.
Other misc info:
 Apple: file up yesterday, price up immediately
Overdrive: file up, price up

Sony: file up, price in process

Kobo: file up, price in process

Baker & Taylor: file being checked, price in process

Amazon: file and price both showing in the back end, still under pursuit
Price up just means they are in the process of getting the price adjusted.  It's never as easy as pushing a button, right?
There are two days left too enter the contest for Kit's Very Bad Job.