Now out…!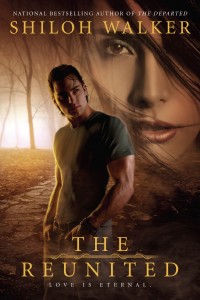 His phone vibrated and he pulled it out, saw the message.
Running late. Unexpected complication. Be there ASAP.
Joss scowled and went to text him back.
But the tingle down his spine stopped him.
Slowly, he lifted his head. He couldn't see her. Not yet.
But with his heart thrumming in his chest and his heart racing, he knew what was going on.
Her . . .
It was her.
Shoving his phone into his pocket, he moved away from the car, lowering his shields just enough so that he could feel her.
There—
Just down the road.
Running.
Form-fitting black spandex clung to her hips and thighs, stopping just a few inches below that delectable ass. A short sleeveless T-shirt, wet with perspiration. A grim look on her face.
Hurt so good, my ass. How many bloody miles have I done now . . . I'm going to have to crawl . . .
The ramble of thoughts in her mind stopped him from sensing anything else.
Then he stepped into her path and the dazed, numb shock replaced her rambling thoughts as he closed the distance between them.
Seconds later, there was no dazed, numb shock.
Just dazed, delighted pleasure as he caught her face in his hands and took her mouth.
She tasted of salt and sweat and woman. His woman, Joss thought. He groaned against her lips as her hands came up, gripped his wrists, her short, neat nails biting into his skin.
read more… check out the blog tour…
BN | BAMM | Indiebound | Amazon | Book Depository
This is the next book in the FBI Psychics series…these books completely work as standalone, so even if you haven't read the other books, you'll be fine.  If you do check it out, reviews would be appreciated… they very much do help.