Heya… I just saw this on twitter, wanted to share.
HUNTER'S RISE is on sale (ebook!) for $1.99…
Amazon | B&N | Kobo | iBookstore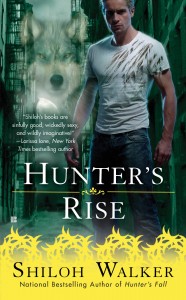 "You still want to go for a run, Toronto?"
He couldn't speak.  For the life of him, he couldn't say a damn word.
So instead, he gathered that dark, silky hair in one hand and slanted his mouth over hers.  As she met his kiss, he wrapped his free arm around her waist and hauled her against him.  Naked, her skin still warm from the bath, she fit him perfectly, those amazing curves aligning next to his body like she'd been made for him.
He growled against her lips as she rocked against him.
"I thought you said no grabby hands," he muttered against her mouth.
"I wasn't being completely honest…I planned to do plenty of grabbing.  I just wanted to do it my way."  She pulled back a fraction, staring into his eyes, clear challenge written on her face.  "Is that a problem?
She was in his arms, naked.  "Hell, no."
"Good."  A pleased smile curled her lips as she stroked her hands along his waist, then dipped them under his shirt, pushing it up as she went until she could strip it away completely.
As it fell to the floor by the other one, she eased back, staring into his eyes for a long moment before lowering her gaze.  Toronto held still as she lifted her hands and curved them over his shoulders, stroking down, her fingers learning the planes and ridges of his body.  When she reached the small ring percing his left nipple, she paused. Lifting a brow, she touched it, tugging it lightly.  "Silver, Toronto?"
He shrugged.  "I got bored one night."
"So you pierced yourself with silver.  You trying to poison yourself?"  She continued to toy with it, her skeptical gaze lingering on his face.
"I'm too strong for that little bit of silver to poison me." He grinned at her, trying not to react while she played with the ring.  It shouldn't feel that damn good, he knew it.  But while he was too strong for that bit of silver to poison him, that bit of silver piercing his flesh did make him damn sensitive there and it was almost painfully erotic to have her tugging on it like that.
"So you did this because you were bored?"  A wicked grin curved her lips.  "You get bored a lot?  What else did you pierce?"
Her gaze dropped low and a visceral, blistering punch of heat raced through him even as he instinctively winced.  "Not there, sweetheart."  Although if it felt like that when she toyed with it?