Can you help?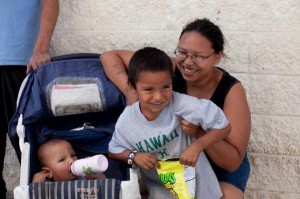 I posted about this a week ago and they were able to reopen the fundraiser. Many people are unaware of the fact that the Pine Ridge Reservation is pretty much one of the poorest areas in the country. The infant mortality rate (how many children who will die before age 1) is 300% higher than anywhere else in the country.  That figure absolutely staggers me.  It sickens me.  And what really hurts is the fact that many of these deaths are preventable.
They are working to build a new home for Healthy Start, where they can provide better care for babies and at-risk moms so these children can have a better start at life. These programs DO work… but they need help.
In December 2011, the program lost its first office due to high levels of asbestos. Then it was placed in a mold-infested trailer with holes. When that situation proved unacceptable, the program moved into the storage room behind a video store. Recently, the Indian Health Service deemed the room unfit due to the threat of the Hanta Virus.

Read more at Indian Country Today
This is what they face… can you imagine the only option for health care for your child being a trailer with holes in the walls?  A storage room?
They're working to raise funds to build a new home, but they need help.  The government isn't going to do it…they've broken endless promises to the Natives of this land and these kids shouldn't have to wait for a safe place to get health care.
The fundraiser at Indiegogo was re-opened with the deadline extended another 21 days. Even $5-$10 can help give a child a better shot at life… can help ensure a child will HAVE a life. Help if you can… spread the word. Thank you.
Lakota Healthy Start <–link to donate
What's in the Heart – Can't be Taken from Kitty Farmer on Vimeo.
Image via Indian Country Today | Deanne Fitzmaurice