Wanna win WRECKED?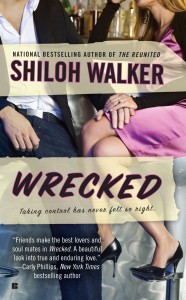 I'm giving away an ARC over at Dear Author.
There's also a giveaway at Goodreads.  There will be more giveaways at other places.  🙂 Probably including one here.
How about a snippet?  🙂
Watch out, her brain warned her. You're starting to think.
Desperately, she closed her eyes and tried to clear her mind. Focus on him. Just him. He feels nice, right?
Oh, yes. He felt better than nice. Better than anything she'd ever felt, really.
But what in the hell is going on? You were going to think things through and now—
Stop it. The calm, rational part of her mind got a little louder. But it just wasn't enough and before she even realized it, she blurted out, "What in the hell just happened?"
Zach's lips touched the back of her neck. "Well, I'm no expert, but I think you kissed me," he said, his voice teasing. "And I'm pretty sure we both enjoyed it. But maybe we should try again."
read more…