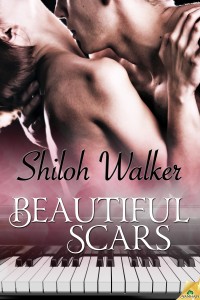 Beautiful Scars releases soon, and I'm counting down to that…Two weeks!
I'll be posting random snippets and giving away random prizes.  How to win? Just enter via the widget, and make sure you check back. 😉
"You're being…" Snapping his mouth shut, he bit back anything he could say that would make things any worse than he'd already made them. "Can we maybe just rewind things? Go back to before we woke up? Please?"

"Two."

Letting his hand fall away from her arm, he backed away a step. "This isn't done, damn it. I get it…you're mad at me. I know you well enough to know that."

"No, you don't," she whispered, lowering her head.

Finally, she looked back at him and for a moment he saw something other than that blank, smiling mask she'd been showing him all damned morning. It was the pain he'd glimpsed in her eyes. Right after he'd fucked things up. "If you knew me all that well, you'd know I'm not pissed." Her gaze roamed over his face and she went to turn away.

His heart stuttered and then stopped beating when she paused, whirled back around and came up to him, cupped the back of his head. As her lips crushed to his, he went to grab her.

But she was gone in the next breath, striding down the sidewalk, and she didn't look back.
Or if you want…you could just preorder…
Samhain | Amazon | BN | iBookstore
And now…for the contest…