I got some advance reviewer copies of The Reunited in!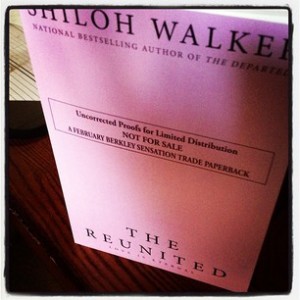 And I need reviews. Some of these will be going to booksellers, but a few of them, I'll send out. It all depends.
If you'd be interested in receiving a reviewer copy, please leave your blog URL below in comments. Please note: this isn't a contest. By requesting an ARC, you're agreeing to (barring unforeseen events) to get a review posted by the time the book releases in February. If you don't blog or if you can't get it reviewed, please do not request the ARC. There is a contest going on where no review is needed and you're welcome and encouraged to enter that.
Also note, just because you request doesn't mean you'll get it…  🙂  I've only got a few on hand. If I select your blog, I'll be in touch.
Thank you!
Blurb:
AN ETERNAL DESIRE
With his strong psychic ability, FBI Agent Joss Crawford longs for the woman he loved in a past life. But after years of searching, a new case is drawing him into the last place he'd ever want to find her: an underground slave ring. Going undercover to infiltrate the network, he meets Drucella Chapman—the mastermind's fiancée. Joss has every reason to believe she's evil. So why is he irresistibly drawn to her?
A DANGEROUS GAME
Drucella has made it her personal mission to bring the slave ring down. But the sadistic ring leader is even more careful than he is cruel. In order to gain information, Dru has had to get close to the very man she wishes to kill, using her gift to read his memories bit by bit. She'd do anything to finish the job, but agreeing to marry him may have been a step too far—even for her.
A FATEFUL ENCOUNTER
Though Joss and Dru are both undercover, nothing can disguise the sense of déjà vu they experience when they meet. Neither can afford to be distracted from the mission at hand, but perhaps their reunion is exactly what this mission needs…
Read more