They had just left a party… that's a celebration, right?
From BEAUTIFUL SCARS, erotic contemporary romance due out in ebook in January.
And… LOOK IT!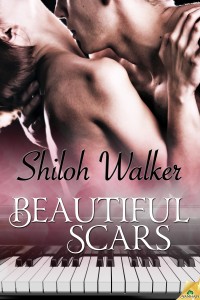 She all but groaned as he launched into the one part that got to her, every damn time, right near the end.
His voice dropped, lower, rougher.
A shudder went through her and she grabbed the glass of wine, drank it down. They'd emptied the bottle and she wished she could blame the heat burning inside her on the wine, but it wasn't that. It was him. Always him—
"What is it about you and that song?"
As the music faded, she jerked her head up, saw him staring at her.
She tried to shrug. It wasn't the song, it was him. Something about the way he sang it, hell, the way he sang anything… She licked her lips and stared off into the distance, trying to figure out the right way to say something that wasn't a lie, but didn't leave her stripped bare.
A harsh groan reached her ears.
Startled, she looked at him, realized he was staring at her mouth.
Two seconds later, he was reaching for her.
Stunned, she couldn't think. As his lips covered hers, she just couldn't think.
Marc was kissing her.
Damn it.
Marc was kissing her—
Had she drank more wine than she'd thought?
"Open your mouth," he snarled against her lips, a harsh, urgent command in his voice. "Give me your mouth."
Dazed, she did just that, opened for him.
His arms came around her as his tongue stroked across the bottom of her lip, slowly, seductively…teasingly. Oh, hell. She was in trouble. Big, big trouble…
And she didn't plan on doing anything to stop it, either. Not when he broke his mouth away to brush a line of stinging, hot kisses down her neck to her shoulder. Not when he stroked a hand up her thigh, the other cupping the back of her head.
Lissa Matthews
Rhian Cahill
Leah Braemel
Myla Jackson
Caris Roane
Jody Wallace
McKenna Jeffries
Taige Crenshaw
HelenKay Dimon
TJ Michaels
Delilah Devlin
Eliza Gayle
Lauren Dane