Hmmmm.
This one is hard.
I guess I'll go with THE PROTECTED….(due out in 2013)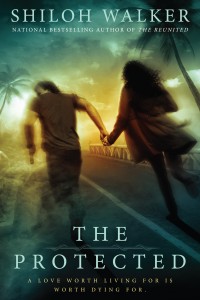 Her tongue was too thick.
Help—
Help. She needed help. A face formed in her mind. Tucker—
Even as she screamed for him, she was distantly aware of Gus easing her around in the seat. "I'll leave the windows down," he said, leaning in to murmur against her ear. "You'll sleep for thirty minutes, no more. The keys are you in your pocket."
The words barely made sense. The darkness came on harder, faster.
"You…" she licked her lips. That sense of dread kicked up and ran down her spine. Adrenaline chased back the fog a little. "They'll find the boy," she whispered. "You stupid jack-ass. You…just fucked yourself…"
"No. I'll keep him safe. It's my job."
Rhian Cahill
Mari Carr
McKenna Jeffries
Taige Crenshaw
HelenKay Dimon
Lauren Dane
TJ Michaels
Jody Wallace